Terry Crews 'Overwatch' update: Crews wants to play rumored new character Doomfist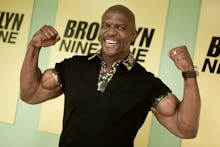 The last time Brooklyn Nine-Nine actor Terry Crews posted on Reddit was a year ago, for an AMA, or "Ask Me Anything" session — but he broke his silence on Monday to weigh in on a discussion about Blizzard's multiplayer shooter game Overwatch. 
Specifically, he commented on a post making the rounds on the /r/Overwatch subreddit that suggests Crews play Doomfist, a rumored new Overwatch hero who was first teased in the game's initial cinematic trailer.
Wait, who is Doomfist?
If this is the first time you're hearing of Doomfist, check out our full article that details every single clue about them in Overwatch so far, as well as some more speculation about other possible heroes that could be added to Overwatch in the future.
OK, now back to Terry Crews.
Terry Crews comments on the Overwatch subreddit
"I would LOVE TO PLAY DOOMFIST," Crews' comment says. If the nearly 5,000 upvotes on Crews' comment and the 6,000 upvotes on the post about that comment are any indication, fans are pretty supportive of the idea, too.
Whether Blizzard will actually cast Crews in Overwatch is a whole other question, dependent on a huge set of variables. First, it depends on whether Blizzard is actually planning on adding Doomfist as a playable hero. Second, it depends on what their vision for Doomfist as a character is and whether Crews' very specific brand of macho enthusiasm fits with that vision. Third, it depends on whether Blizzard might have already cast someone in the role. Still, it's not impossible.
William Warnecke, lead software engineer at Blizzard, responded to a fan's tweet about the groundswell support for Crews, directing the request to Andrea Toyias, a voice director at Blizzard. So, at the very least, Blizzard is aware of the whole Terry-Crews-as-Doomfist idea. If Crews isn't cast as Doomfist, maybe Blizzard will cast him in another role sometime in the future.
This isn't the first time Crews has shared his love for Overwatch. Over on his official Facebook page, Crews recently shared an article about the free Overwatch weekend, saying, "Attention gamers: Cancel your plans for this weekend, TRUST ME."
And if you want some more excellent Terry-Crews-related video game content — the man is a delight, so you obviously do — check out the video embedded below where he details his new custom-built gaming PC that he built with his son.
"This is the technical side of Terry Crews," he says.
Overwatch: Everything you need to know
If you want to be able to go toe-to-toe with Terry Crews, you're going to want to read up on the latest Overwatch news, like Mic's guide to playing Sombra, which other new characters might be on the horizon, which characters players are speculating will be revealed as LGBTQ, information on the months-long alternate reality game that led up to the reveal of Sombra and the latest details on the upcoming modifications to Symmetra.