Prince Greatest Hits album: Track list, previously unreleased songs and more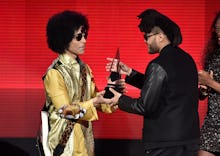 It's been seven months since Prince died of an accidental overdose at the age of 57. Even though we no longer have the musical legend with us, his legacy lives on in 4Ever, a two-disc album that contains 40 of the singer's greatest tracks. 4Ever was officially released on Nov. 22, and includes "Moonbeam Levels," a previously unreleased song.
"Moonbeam Levels"
"Moonbeam Levels" was taken off of Prince's 1999 studio sessions. The song, originally recorded in 1982, has often been bootlegged. However, this will mark the first time the song gets an official release. 
It was scheduled to appear on Rave Unto The Joy Fantastic, an album that never saw the light of day.
Below are the opening lyrics to "Moonbeam Levels," courtesy of Genius.
[Verse 1]
4Ever track list
4Ever contains tracks like "Little Red Corvette," "Purple Rain" and "Kiss." The album is the first time music has been released since the artist's death in April. A deluxe re-issue of Purple Rain was also announced in October. The re-issue will not drop until next year.
The 40-song track list for 4Ever goes as follows:
1. "1999"
Album extras
In addition to the music, the album carries a 12-page booklet with unreleased photos of Prince. The photos — including the cover of the album — are all taken by famed fashion photographer Herb Ritts, who died in 2002. iTunes also has a digital version of the booklet, attached at the end of the setlist. 
Prince's estate and streaming
The release of 4Ever also coincides with a lawsuit Prince's estate and label, NPG, filed in early November against streaming service Tidal and Roc Nation, the entertainment company that owns Tidal. The lawsuit claims that Tidal is streaming over 12 of Prince's albums without permission. 
Back in July 2015, almost a year before Prince passed away, he removed his music from streaming sites like Spotify and Apple Music. Nevertheless, in September of the same year, Prince released his 38th studio album, HitNRun Phase One, exclusively to Tidal. 
Prince's estate and NPG claim that Tidal has no right to stream any of Prince's catalog, and that nothing was signed claiming such a deal. Roc Nation disagrees.
Until it's settled, Tidal is the only streaming service where one can listen to most of Prince's discography. 4Ever is currently available for purchase on iTunes and Amazon Music.