How Donald Trump's pledge to pull out of the Trans-Pacific Partnership will affect you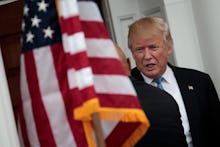 Life
By
Natasha Noman and Robert Valencia
On Monday night, President-elect Donald Trump released a video with plans for his first 100 days in office and, more specifically, for his first day in office. Among them? Withdrawing from the controversial Trans-Pacific Partnership.
"On trade, I'm going to issue our notification of intent to withdraw from the Trans-Pacific Partnership, a potential disaster for our country," Trump said to camera. "Instead, we will negotiate fair, bilateral trade deals that bring jobs and industry back onto American shores."
The TPP is a trade agreement that includes 12 countries: the United States, Malaysia, Vietnam, Singapore, Brunei, Australia, New Zealand, Canada, Mexico, Chile, Japan and Peru. 
The over 5,000-page deal would be the biggest of its kind in history and would result in freer trader primarily through the elimination of 18,000 import and export taxes. The group of countries involved account for about 40% of the world's gross domestic product.
In addition to reducing tariffs, TPP's participating countries would agree to stem wildlife trafficking, particularly of elephants, rhinoceroses and marine species; illegal logging and fishing are also banned under TPP. There are also provisions that could lead to stricter global copyright laws.
President Barack Obama signed the deal in February, and it has been awaiting Congressional approval. Now it has little to no chance of survival after Trump's announcement.
In general, critics of international trade deals say they push down wages and cost jobs for low-skill workers. Meanwhile, proponents of free trade argue that the jobs lost are replaced with higher-skilled positions, and that lower trade barriers mean cheaper raw materials and more competitive products, which can actually increase sales and hiring.
Restricting trade could mean cheap imported goods won't be so cheap anymore — that might result in higher prices at the store for you.
Studies suggest trade deals generally lower prices for goods purchased disproportionately by middle-income and poorer Americans; wealthier people tend to spend a greater share of disposable income on services instead, so they are not as affected.
Still, because of the threat to jobs, populists on both sides of the political spectrum, including Bernie Sanders, have decried the TPP.
The presidential election drew the issue to center stage, resulting in formerly supportive Democratic nominee Hillary Clinton withdrawing her support for the TPP because it did not "meet [her] standards."
Vice President-elect Mike Pence has also pulled an about-face since being selected as Trump's running mate; he showed support for the deal in September 2014 on Twitter.
Beyond the debates about whether the TPP would good for the economy — by stimulating competition — or whether it would hurt American manufacturers and workers, is the fact that eliminating the trade deal could benefit powerful countries that were not included in the agreement, like China.
"We can't let countries like China write the rules of the global economy," Obama said last year as he advocated for TPP.
Indeed the United States pulling out of the TPP could position China to step up as a leader in global trade: China, Japan and South Korea are reportedly already beginning to plan a trilateral trade agreement.