'Watch Dogs 2' genitalia removed, and seamless online multiplayer gameplay is finally live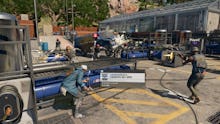 You no longer need to be concerned with the vagina in Watch Dogs 2 — it's gone. In other Watch Dogs news, the far more important thing you might have been worried about, the multiplayer mode that's been broken since launch, has also been fixed.
Watch Dogs 2 title update 1.04 went live on Nov. 18. The biggest change included was the removal of "explicit NPC model." Specifically, it got rid of the female avatar with an inexplicably detailed crotch. It did not address Watch Dog 2's "seamless online" multiplayer mode, which rankled some fans.
Thankfully, Ubisoft announced Tuesday that multiplayer in Watch Dogs 2 is finally up and running. That should make players who were waiting for the seamless online mode very happy.
Watch Dogs 2 online multiplayer: Here's how it's supposed to work
Multiplayer in the original Watch Dogs game was all about invading other people's experiences. You could be walking around minding your own business. Then, suddenly, you would get an alert that another player was hacking your phone. The defending player had to find and kill the invader, but if the hack was successful, the invading player would win. It was a cool idea that was spiritually similar to how multiplayer works in the Dark Souls series.
There were some drawbacks, though. It was sometimes annoying when another player invaded because it also blocked you from accessing missions and side content until you killed the hacker or got hacked.
Multiplayer activities in Watch Dogs 2 are expected to work in the same "seamless" fashion, but no one had been able to assess the multiplayer system because it wasn't working until now.
Watch Dogs 2 genitalia pictures: Removing content is easier than fixing online multiplayer
Some members of the Watch Dogs 2 community were angry that title update 1.04 removed the "vagina avatar," but didn't address the broken multiplayer mode. Of course, these are two very different issues for a developer to change. So assuming this was an either/or choice probably doesn't reflect the reality of the situation. Replacing a single avatar from Watch Dogs 2 is probably a lot easier than trying to fix the myriad systems involved in a multiplayer mode. 
The question is now academic, though, since Ubisoft brought Watch Dogs 2 multiplayer online for the PlayStation 4 at 8 a.m. Pacific time. Xbox One players will get the feature Tuesday afternoon, according to an email from Ubisoft distributed to the press.
Watch Dogs 2 was released for PlayStation 4 and Xbox One on Nov. 15. The PC version will be released on Nov. 29. We loved the game even without its multiplayer modes, but we'll be sure to check out the new feature now that it's finally available.