How to Trade in 'Pokémon Sun and Moon': Guide for trading with friends and strangers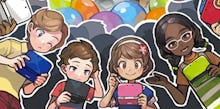 Trading is a key part of any Pokémon adventure, and Pokémon Sun and Moon is no different. The latest game in the franchise includes two main ways to trade: with friends and with strangers, with each of those break down into two separate options. Here's how to trade in Pokémon Sun and Moon using any of the four available systems.
How to trade in Pokémon Sun and Moon with friends
Local trades are a great option if you're in the same room with a friend. Just open the menu with "X" and pick "Quick Link" to connect your 3DS to nearby handsets. Next, go to the Trade menu and start trading. That's pretty much it.
You can also make long-distance trades over the internet with friends who are far away. First, make sure your 3DS is online. Then open the menu and pick "Festival Plaza" to get started.
If this is your first time visiting Festival Plaza, you'll have to suffer through a few tutorials. Once that's over, look at the lower display and you'll see two big buttons for trading or battling. Pick trading and then select "Link Trade" to connect with friends.
From there you can start trading. You may also want to mark your friends in Pokémon Sun and Moon as VIPs. That way you can easily find them the next time you want to trade.
How to trade in Pokémon Sun and Moon with anyone
There are two distinct ways to trade with random people in Pokémon Sun and Moon. Both can be found in Festival Plaza. So follow the directions above to get started, but instead of selecting "Trade Link," you'll want to pick Wonder Trade or Global Trade System — GTS for short.
Wonder Trade lets you swap Pokémon with another person at random. Just pick the Pokémon you want to trade and Pokémon Sun and Moon will find a partner for you. You should receive your Pokémon pretty quickly, but, for now, the system is mostly just spitting out common Pokémon like Yungoose.
GTS lets you trade for specific Pokémon. You can deposit one that you don't need and request the ones you're having trouble catching. Using that information, Pokémon Sun and Moon creates a database to see what's currently available.
GTS also includes lots of useful filters for searching. You can scan in specific regions, filter out any Pokémon you already have, and ignore trainers that are looking for legendary Pokémon.
Pokémon Sun and Moon: Guides, secrets, tips, tricks and more
If you're serious about Pokémon Sun and Moon, you'll want to read up so you can be the best. Check out our guides for picking the right starter, Pokémon Sun and Moon cheats, using a damage calculator, how to catch the new legendary Pokémon, how to get Munchlax, how to get Necrozma, how to get Ash-Greninja, how to customize your character, how to use QR codes and picking between Pokémon Sun and Pokémon Moon.