Netflix Thanksgiving Movies 2016: Holiday-themed comedy, drama and horror films to watch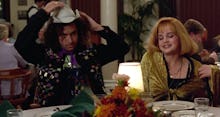 Part of the joy of Thanksgiving comes with the changing of the seasons. Fall is coming to a close and there's nothing like cozying up to your bed or sofa, layering with several blankets and watching some movies. And, if you want to stay in theme, we've got a list of eight different Thanksgiving-related films for your enjoyment. From crime drama Four Brothers to the heartwarming Miracle on 34th Street, here are eight movies to be thankful for.
The Doors (1991)
Oliver Stone's Jim Morrison biopic is by no means an easy watch. It's hard to watch Morrison — played by Val Kilmer — self-destruct, sabotage his personal and professional relationships and, essentially, kill himself. But as challenging and devastating as The Doors is throughout, nothing is quite as bad as the Thanksgiving dinner held by Morrison's longtime girlfriend Pamela Courson (Meg Ryan). Morrison shows up after taking acid. He forgets to remove a duck from the oven and Pamela completely loses it. She throws food at him, eventually takes out a knife, and the tense and passionate scene — where Morrison asks his girlfriend to stab him — ultimately foreshadows the premature (and in Morrison's case, mysterious) deaths of the troubled couple.   
Dutch (1991)
John Hughes wrote several of the best movies about troubled kids and teens we're likely to ever get. In Dutch, one of his less revered endeavors, we meet the titular character: a good-hearted goofball who doesn't fit into the wealthy lifestyle of his girlfriend, Natalie. Anxious that her ex-husband is trying to strip her of custody of their son Doyle, Natalie wants Doyle to come home from his Georgia boarding school for Thanksgiving. In an effort to show his love for Natalie, Dutch decides to pick him up. What ensues is an insane road trip between man and boy. They meet sex workers and are assaulted by security guards. Despite an initial hatred at first, they grow fond of one another. It's harmless and fun. If anything, Doyle's shenanigans are reminiscent of Hughes' Home Alone films. 
Four Brothers (2005)
John Singleton's crime film stars Mark Wahlberg, Tyrese Gibson, André 3000, and Garrett Hedlund as brothers adopted by a kindly woman named Evelyn Mercer. At the start of the film Mercer is at a grocery store picking out a Thanksgiving turkey when she is killed. When the four brothers return home to Detroit for the funeral, they soon learn their mother's death may actually be more complicated than it seems. They set out to find her killers, get answers, and in the process become a family again. The film takes place around the time of the holiday — as seen through Evelyn buying a turkey and Jeremiah (André 3000) later insisting that despite her death they should still celebrate. Four Brothers may be incredibly violent and full of intense action sequences, but at the end of the day it is a film about the bond the four men have come to share. 
Kristy (2013)
While most of her friends go home for Thanksgiving, Justine can't afford the trip and has to spend the holiday at college. What first looks to be a quiet and uneventful Thanksgiving proves to be horrific after Justine meets a mysterious woman named Violet. Upon returning to campus, Justine sees several hooded men killing a security guard, the maintenance man and eventually her boyfriend Aaron. Determined to get out alive, Justine needs to not only figure out how to kill the dangerous men, but who Violet is and what she wants. 
Miracle on 34th Street (1994)
Miracle on 34th Street is a Christmas film at heart, but all its magic begins during Thanksgiving. Dorey Walker is the special events director at Cole's, a Macy's-like department store. She has just fired the store's Santa Claus because he had been drunk at Cole's Thanksgiving parade (modeled after Macy's renowned parade). It's then that she finds Kris Kringle, a man who ends up being the perfect Santa. He's so good people start to believe him to be the real Santa — everyone except for Dorey's six-year-old daughter Susan. After Kringle finds himself in some legal trouble, the film sees Susan come to his defense and slowly start to believe in his magic. 
Not Cool (2014)
After leaving for college, Thanksgiving is often the first time of the year where everyone gets to go home, see their friends and family, and realize everything is starting to change. In Not Cool, a comedy film written, directed by and starring YouTube sensation Shane Dawson, a group of friends return to their Pennsylvania town for the holiday weekend. Dawson plays, Scott, a former prom king who begins to fall for Tori — a girl he used to bully in high school. Meanwhile, Joel, a geeky kid, tries to capture the attention of Scott's sister, the popular Janie, by learning everything about her social media presence — a true modern day love story. 
The Other Sister (1999)
It's been a couple of months since the world lost Garry Marshall, the director behind Pretty Woman, the Princess Diaries films and more recently Mother's Day. Not concerned with critical success, Marshall was all about entertaining. In The Other Sister, Juliette Lewis plays Carla, a mentally-disabled woman who is seeking independence from her uptight and overprotective mother, played Diane Keaton. Carla meets Danny (Giovanni Ribisi), who has his own disability, and the two fall in love and attempt to create a life for themselves. While the film is certainly questionable in it's choice to cast two actors who don't have such disabilities, it's a pretty sweet romantic movie. Plus, there's an uncomfortable scene where Danny reveals to family and friends that he and Carla had sex last Thanksgiving. 
Son In Law (1993)
Carla Gugino plays Rebecca Warner, a girl from the middle of nowhere, South Dakota, who attends college in California. Initially uncomfortable, she begins to adapt — all with the encouragement of Crawl (Pauly Shore), her RA. Nervous about going home for Thanksgiving, Rebecca invites Crawl home with her. He meets her family and her boyfriend Travis, who attempts to propose. Desperate not to marry him, Rebecca has Crawl pretend to be her fiancé, and the film sees Crawl attempting to acclimate to South Dakota life. As he gets closer with Rebecca's family, we see actual chemistry between the two begin to form.