The holiday gift-giving struggle is real — here's how you can avoid it this year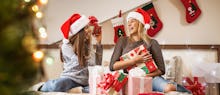 Here we go again. Like an amusement park ride we can't quite escape, we're strapped in, drawing steadily toward Thanksgiving and then... we take the plunge through Black Friday, beyond Cyber Monday and Super Saturday, and into the frenzied holiday shopping season.
According to a recent survey of holiday shoppers conducted by eBay, a majority of respondents — 81% — say they struggle with finding "the perfect gift" for everyone on their list. The struggle is real.
Giving gifts to the important people in our lives is a natural human gesture, but one that has become complicated by social, emotional, economic, even political dynamics. Add to that the forces of consumerism and high expectations that attend the holiday season in the U.S., and it's no wonder so many of us struggle amid the jollity.
The eBay survey also found that 74% of millennials cited the "decline in personal conversations" as the primary reason it's so hard to find the perfect gift — hence, eBay's idea to provide conversation starters for 12 different personalities on your gift list (e.g., "The Foodiest Friend" and "The Weekend Legend.")
While we can't point you to the perfect gift for each important person in your life, we can help you change the way you think about what makes a gift perfect. In the spirit of helping you achieve your #GiftGoals, we've devised a set of five guidelines to help you avoid the stress, refocus your approach and reclaim the true spirit of gift-giving.
1. It's the deep thought that counts
Take the time to think deeply about what each of the people on your list means to you. Write it down, even. What do you love about each of them? How do they make you feel? What moments and memories do you share with them? This, after all, is what you want to express with the gifts you give them. Proceed from here.
2. Gifts that truly keep on giving
We often fall into the trap of wanting each gift to be the BEST. GIFT. EVER. — as if it's the final word on that relationship. While looking to the past for inspiration can point the way to a meaningful gift, try looking ahead, to the memories you have yet to share. Plan an experience together — a trip, a group cooking lesson or a crafting class that produces its own mementos. What's more generous than planning ways to make more memories?
3. It's not about what they want (or need) 
If you want to give someone a perfect gift, you can't ask what they want outright. (Sure, it's direct, but then what was the point of taking all that time to think about what they mean to you? And it will ruin the surprise!) You can, however, ask them questions to help you figure out the best gifts, as eBay suggested. But in the end, the best gifts are less about what someone thinks they want or need, and more about what you really want them to have. They're about something far more valuable: your relationship.
4. The gift of memory
Remember the scene from Breaking Bad, when Walter White attends the birthday party of his wealthy friend and former business partner, Elliott? After opening one flashy object after another, Elliott unwraps Walt's gift: a humble package of ramen noodles commemorating the lean years they shared as grad students. Yeah, that's how you give a gift. Memories — not the brand or dollar value — are what make a gift meaningful.
5. You are not Santa Claus
No one expects you to shower generosity upon everyone in your orbit. Instead of making everyone happy — from family, friends, colleagues, the dry cleaner, the pizza delivery guy (the list is seemingly endless) — focus on the people who really matter most first. Then, spend whatever time and money you have left on everybody else.