MacBook Pro: Here's what you should know before buying the newest release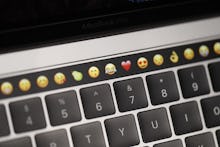 Apple recently released an upgrade to its MacBook Pro line that's been met with a mixed reaction. Besides the thinner design and increased battery life, the star addition to this new generation is the OLED display "Touch Bar," which allows users dynamic control over context-specific features and shortcuts. 
Some praise the Touch Bar's innovative execution, while others lament the feature's lack of productivity-enhancing customization. One thing everyone can agree on is the new MacBooks are ridiculously expensive. So what else are the critics saying? Here are some factors to consider before taking the plunge on a new MacBook Pro:
The Touch Bar is promising, but needs work
The Multi-Touch Retina display is a clever idea with plenty of potential. But until developers can implement customization outside of Apple's own applications, it might serve as more of a distraction than a productivity booster. It's branded as the new MacBook's main selling point, but doesn't do enough to warrant purchasing one for this feature alone. 
Touch ID is pretty convenient
The Touch Bar has users divided, but there's no denying the Touch ID — located on the right end of the OLED strip — is a useful addition. Not only can it unlock an account without typing in a login and password, but it's also capable of linking with Apple Pay to make fast, secure payments.
USB-C ports will be great someday — but for now they're super annoying
The new MacBook Pros are exclusively equipped with USB-C ports, meaning the technology is here to stay. This is mostly a good thing — USB-C transfers both data and power, which led to the elimination of Apple's MagSafe chargers. But the rest of the world hasn't caught up yet, which means using the new ports are a somewhat frustrating experience, as MacBook Pro owners have to purchase separate adapters for their existing technology. The problem got so bad that Apple actually responded by slashing adapter prices. So USB-C will eventually be good — but for now, they're in the way. One minor consolation: You can charge from any of the laptop's three ports. 
As always, Apple made an attractive device
The new MacBook Pros are thinner, lighter and prettier. This is pretty much how it goes every year, and it's probably one of the reasons Apple customers stick around. Aesthetics matter, and Apple seems to understand that notion more than most.
But is it worth the expensive price tag? 
The top-of-the-line 15-inch MacBook Pro sells for $2,800 before tax. The base 13-inch model without the Touch Bar sells for $1,500. Either way, it is expensive. Yes, the MacBook Pro is the gold standard, and yes, Apple products have always been expensive — but this computer comes with a hefty price tag. The new MacBook Pros are sexy and reliable, but can they be labeled as legitimately powerful compared to other options? That depends on your personal needs.