India's minister for women downplays country's rape problem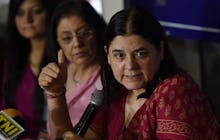 India's minister for women and child development would like the media to please stop exaggerating the country's rape problem; it's scaring away the tourists. 
Maneka Gandhi told a roomful of female journalists Monday that India was actually one of the bottom four countries, globally, when it came to the incidence of rape, the Guardian reported Wednesday. 
"I went to Sweden two years ago when, because of the Nirbhaya incident, cases were being reported every day," Gandhi said, according to the Times of India. "Someone said to me that no one wanted to travel to India. I had data with me and I took a look at it and then showed it to him. As per that data, in the world, we ranked among the lowest four countries in terms of rape cases. Sweden was number one."
The data — which Gandhi said was furnished by someone in a "position of authority," according to the Times of India — contradicts other figures from the government that suggest that India has a formidable problem with protecting residents from sexual violence. 
In 2014, the National Crime Records Bureau estimated that 93 women were raped every day in India. While the number of rapes reported nationwide dropped from 36,735 in 2014 to 34,651 in 2015, reporting rates in India are low: The actual number of rapes committed is likely much higher than the NCRB projects. 
In August, India's tourism minister advised women visiting the country to avoid wearing skirts and stay out of the streets at night "for their own safety."
In Sweden, where Gandhi said she traveled two years ago, rape is broadly defined, and the country's feminist culture may mean more women report than they otherwise would. India's patriarchal culture, by contrast, is a roadblock to reporting; as the Guardian pointed out, victims of sex crimes are often shamed, blamed and ruined in the eyes of their peers. 
Gandhi's remarks have sparked backlash. As one critic wrote in the Hindustani Times, "It is passing strange that the minister felt it necessary to compare India with Sweden, where the incidence of rape is indeed high, but then so are conviction rates." In India, the editorial alleged, authorities seem to work against women who report rape.
"Scoring brownie points on this issue serves only to detract from the real problems of sexual violence that women face on a daily basis," the article continued. "It is cold comfort that the situation is worse elsewhere; the aim should be to make things better at home."