Donald Trump brushes off conflicts of interest in meeting with 'New York Times'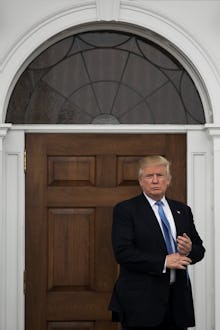 President-elect Donald Trump scoffed at the idea that his vast business empire would present him with conflict of interest problems in the White House, arguing that presidents are exempt from federal corruption laws.
"The law's totally on my side, the president can't have a conflict of interest," Trump said during an on-the-record lunch meeting with the New York Times.
Trump has come under fire since winning the election for continuing to have a hand in his business interests abroad, despite having to deal with world leaders from those same countries in his capacity as president. 
But Trump told the New York Times that, legally, he doesn't have to set up a blind trust — or an arrangement for an independent trust to run his private interests — for his business empire.
On this point, Trump is correct. "Federal ethics laws and conflict-of-interest statutes that apply to other federal employees and cabinet members do not apply to the president," as the Times reported shortly after the election.
Trump instead says he is handing off business operations to his children, who are also involved in Trump's transition — again raising conflict of interest questions. 
Still, while the laws around conflicts of interest may be on Trump's side, the optics of having a hand in running his business empire while dealing with domestic and international issues that the general public is not privy to could be a huge optics problem for Trump.
Democrats are already gearing up to make his potential conflicts a political issue, fighting for a congressional probe of his business dealings.