5 things to expect from Trump's first 100 days in office from his new video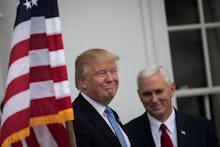 On Monday evening, President-elect Donald Trump released a video outlining some of his top-line plans for his first 100 days in office. The video follows a survey published to the GOP's site on Friday, asking the American people what they would like Trump to prioritize during his inaugural months in the White House. 
The survey covered most of Trump's most controversial and oft-repeated plans: to repeal Obamacare; introduce plans to "defeat ISIS"; build a United States-Mexico border wall; establish a registry for all Muslims; and, lastly, "cancel every unconstitutional executive action, memorandum, and order issued by Obama."
In the video, Trump doesn't mention any of these infamous campaign promises, instead focusing on five key objectives for those crucial 100 days, all of which he said hinge on one central theme. 
"My agenda will be based on a simple core principle: putting America first," Trump assures. 'Whether it's producing steel, building cars or curing disease, I want the next generation of production and innovation to happen here on our great homeland, America."
1. Pull the U.S. out of the Trans-Pacific Partnership 
Trump has been extremely vocal in his opposition to the TPP, a trade deal he believes would only benefit China, a country not even involved in the partnership. 
In Monday's video, he emphasizes nonetheless that the deal — which encourages trade relationships among the U.S. and 11 other countries via cuts to import and export taxes — is "a potential disaster for our country."
Trump says, "Instead, we will negotiate fair, bilateral trade deals that bring jobs and industry back onto American shores."
There have been debates over whether the TPP helps or hurts the U.S. economy and domestic manufacturers, but it's likely withdrawing from the partnership would actually realize Trump's worst fear and put China, Japan and Korea in a more powerful position in the global trade market. 
2. Cancel "job-killing" restrictions on energy
In an interview with the New York Times on Tuesday, Trump said he has an "open mind" about the Paris climate accord, a pivot from the many times Trump has hemmed and hawed about man's role in climate change and claimed the very concept was a Chinese "hoax." 
Still, Trump announced he would remove restrictions on "shale energy and clean coal," the latter of which being an energy source that currently has no restrictions on it, according to the Washington Post.
What's more, the Post reported experts have noted there's nothing "clean" about "clean coal," a substance which still pollutes the environment and lends a hand to climate change.
In Monday's video, Trump promises this part of his plan would create "many millions of high-paying jobs."
3. Prevent cyberattacks
"I will ask the Department of Defense and the chairman of the joint chief of staff to develop a comprehensive plan to protect America's vital infrastructure to stop cyberattacks and all other forms of attacks," Trump says in the video.
This talking point echoes a less coherent one Trump made at September's presidential debate, when the then-Republican nominee said the U.S. ought to be tough on "cyber." At the time, he added, "The security aspect of cyber is very, very tough. And maybe it's hardly doable. But I will say, we are not doing the job we should be doing."
At the debate, Trump also said the country's disadvantage in all things "cyber," was making the U.S. vulnerable to attacks from ISIS. 
4. Crack down on "abuses of visa programs" 
In the video, Trump says he would be asking the Department of Justice to investigate any "abuses of visa programs" by immigrants in the U.S., claiming such abuses "undercut the American worker." 
Of course, Trump has said far worse about immigrants, particularly those from Mexico, who he's called rapists and criminals. But while this measure may seem tame compared to "building a wall," it perpetuates the false narrative that immigrants are stealing jobs.
Trump's promises to crackdown on immigration may altogether add up to the deportation of 2 to 3 million undocumented immigrants, according to the Post. Trump's plans would also likely restrict the non-immigrant H-1B visa, which allows companies to employ foreign workers.
5. "Drain the swamp" with lobbying bans
In a grand scheme to root out corruption in Washington, Trump promises a five-year ban on "executive officials becoming lobbyists after they leave the administration and a lifetime ban on executive officials lobbying on behalf of a foreign government."
Republican National Committee spokesman Sean Spicer explained on Wednesday, according to CNN, that the ban would prevent elected officials from using the government to serve themselves.
" ... It goes back to Mr. Trump's goal of making sure that people aren't using the government to enrich themselves and using their service in government to do that," Spicer said. 
Trump's insistence on the need to "drain the swamp" and divorce it from greed and corporate interest has becoming increasingly dubious given the ways the role the billionaire businessman's empire has played in his transition to the White House.