Netflix Christmas Movies: What to watch with your family on Thanksgiving Day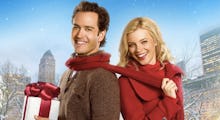 'Tis the season for Christmas cheer! Thanksgiving is Thursday, which means that many are prepping for their turkey dinners — or plotting their Black Friday shopping plans. Either way, Nov. 24 marks the start of the Christmas season. 
Avoid the Black Friday lines and awkward dinner table political debates with these festive Christmas movies currently available on Netflix.
12 Dates of Christmas (2011)
This holiday flick first premiered on ABC Family (now Freeform) in 2011 as part of its 25 Days of Christmas programming event. Amy Smart stars opposite Mark-Paul Gosselaar as a self-obsessed woman who keeps reliving Christmas Eve until she can fix her mistakes. It's the ultimate (cheesy) holiday romance.
A Very Murray Christmas (2015)
Bill Murray's musical comedy Christmas special, released on Netflix last year, is set in New York City on Christmas Eve as Murray prepares for his live Christmas special. Unfortunately, a snowstorm forces some of his famous guests to cancel. George Clooney, Amy Poehler, Michael Cera, Chris Rock, Maya Rudolph, Rashida Jones and Miley Cyrus make up the ensemble cast.
Christmas with the Kranks (2004)
How can you not spend Christmas with Tim Allen? The Santa Clause may not be on Netflix, but Christmas with the Kranks is a solid alternative. The movie is about a husband and wife that decide to skip Christmas — until their daughter changes her mind and comes home for the holiday.
Ernest Saves Christmas (1988) 
It's up to a Florida taxi driver to help Santa Claus pass the torch to his successor in this 1980s comedy. Of course, convincing people that your Old Saint Nicholas is easier said than done.
Happy Christmas (2014)
If your idea of a jolly Christmas is stirring up trouble at home, then catch Happy Christmas. Anna Kendrick and Lena Dunham bring the laughs in this quirky film about growing up.
Love Actually (2003)
This ensemble romantic comedy has 10 different storylines, each set around Christmas. It's a sweet movie that will definitely make you crack a smile — and maybe even shed a tear or two.
Miracle on 34th Street (1994)
Miracle on 34th Street is one of the classics. Netflix does not have the 1947 original version available for streaming, but the 1994 version — starring Richard Attenborough, Mara Wilson, Elizabeth Perkins and Dylan McDermott — is just as good. The movie is about a little girl who doesn't believe in Santa. However, a department store Santa changes her views.
Scrooged (1988)
Bill Murray gets two Christmas movies on this list. Scrooged is a modern take on A Christmas Carol. Murray's character is a miserable TV executive who forces his staff to work on Christmas Eve. A number of ghosts visit him throughout the evening to show him why he needs to change his rude and inconsiderate ways.
White Christmas (1954)
Bing Crosby and Danny Kaye star in this 1954 musical romantic comedy. It's a feel good film with some fun sing-alongs.