Macy's Thanksgiving Day Parade tips and tricks for best viewing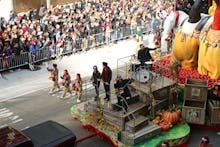 While you have to be a Macy's employee or a family member of those involved with Macy's Thanksgiving Day Parade to acquire grandstand tickets, there are still several ways you can get a good view of the parade on Thursday morning.
If you're thinking about watching from the comfort of your home, NBC will air the parade when it begins at 9:00 a.m. Eastern. Verizon and YouTube have also partnered up for a livestream in the case you wanted to watch the event online.
For New Yorkers and visitors interested in seeing the parade in person, It begins at 77th Street and Central Park West and ends by the classic Macy's store on 34th Street. In addition to waking up early (we suggest you try to start lining up by 6:00 a.m.), and of course dressing warmly, here's some information that could help you out, based on where along the route you plan to attend.
Central Park West
If you want to watch the parade from the very beginning, it's important to know that you won't be able to line up at the beginning of the route by 77th Street, as it will be blocked off. If you're looking to catch the earliest moments of the parade, you can line up on at 75th Street on the west side of Central Park West, just two blocks south of the parade's starting point. 
The parade is schedule to run along Central Park West from 9:00-10:30 a.m. — and the earlier you arrive, the better your view will be. It's worth noting that an advantage of attending the parade at this section of the route is that you'll be able to leave sooner. If you're waiting for the parade toward the end of its route, such as by Macy's, chances are you'll be standing for a long time. You'll have to arrive just as early, even if you're further down the parade route. Space begins filling up fast. 
Also, if you think you can see from the park — you can't: The park is reserved for grandstand viewers only. If you plan on arriving a little later — or if you're just concerned you'll get stuck behind too many tall people and won't get a good look at the parade — consider bringing along stools or milk crates to stand on.
Columbus Circle
For those less willing to brave the elements — the rain, the snow, the cold — Time Out recommends watching from the comfort of the Shops at Columbus Circle. The mall opens at 9:00 a.m., and viewers can catch the parade from the second and third floors as it passes through on its way down to Macy's.
Another perk: If you're standing in the Time Warner buildings at Columbus Circle, you'll be able to see the Holiday Under the Stars exhibit. Twelve 14-foot stars hang in the Great Room of the building, and exhibited under the stars is the Astolat Dollhouse Castle, a miniature house that's valued at $8.5 million.
Sixth Avenue
After passing Columbus Circle, the parade will eventually make its way down 59th Street, then turn onto Sixth Avenue and continue its journey south toward Macy's at Herald Square. Note that parts of Sixth Avenue will be closed to the pubic — namely between 34th and 38th Streets — but posting up anywhere else along Sixth should make for a good spot to watch the parade roll on through.
34th Street 
Yes, there's room to watch the parade closer to its end down by Herald Square. But as noted above, if you want to see the last stretch of the parade route, you'll have to show up just as early to nab a good spot and wait a whole lot longer for it to pass by. There are places for regular viewers to watch the parade on 34th Street along Broadway and Seventh Avenue, but also keep in mind that this is the point in the parade where all the cameras, scaffolding and other equipment for filming the event is set up, so it'll be even more difficult to lock down a spot with a good view.
For more information on the parade and its route, you can also download the Macy's Thanksgiving Parade app.