Is Carl Grimes leaving 'The Walking Dead'? Chandler Riggs rumor sparks new theory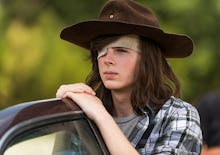 While The Walking Dead is a show that hinges on the premise that anybody can die at any given time, there's still a couple exceptions to the rule: Rick Grimes, his son Carl "Coral" Grimes and probably Daryl Dixon — otherwise people will riot. But a real-life conflict has fans worried that we'll be losing Carl — the kid who's been through puberty in the span of a couple of comic-book years and really loves pudding in the zombie apocalypse — at some point this season. Is it possible? 
The rumor stems from actor Chandler Riggs, who plays Carl, and his father, William Riggs. William posted a cryptic post on Facebook, which has since been deleted, celebrating his son's seven-year stint on the show. Riggs' contract was up, and coupled with the actor's celebratory tweet about his acceptance into Auburn University (that's awesome, dude!), fans were quick to suggest this could mean the end of Carl. 
To be clear, if Riggs did leave the show, and they subsequently killed Carl off, it would be a huge departure from the comic books. Carl and Rick are at the center of the series; some fans predict the ultimate ending of The Walking Dead will focus on Carl surviving in the post-apocalyptic world (Rick will somehow die at the very end, per some fans' speculations). This, of course, hinges on Carl making it through every ordeal — including the show's current threat, Negan and the Saviors. 
But how likely is it that — given Riggs' contract and subsequent acceptance to a university — the character will leave the show? Frankly, it's way too early to tell, and there's no reason fans should jump to conclusions based on these statements. 
For one, actors' contracts are restructured and renewed all the time. Game of Thrones stars Kit Harington and Emilia Clarke, for example, had their contracts re-upped after season six. Riggs' own co-stars, Andrew Lincoln (Rick) and Norman Reedus (Daryl) had contracts that were ending this year and only recently were renewed. Though Daryl would probably rather be dead than listen to "Easy Street" one more time, so our thoughts are with him. 
Conversely, it's difficult for actors to continue their professional careers while going to college: Just look at the recent examples of Emma Watson and Blake Lively. If Riggs is choosing school, which he so far appears to be, it's no guarantee he'll return to the show. Nor should he; if Riggs and his family value his education first and foremost, that should be celebrated by his co-stars and fans alike. Follow the lead of actor Jon Bernthal, who played Rick's frenemy Shane:
Ultimately, this is all speculative until we check out the rest of season seven. We wouldn't necessarily say Carl is in a good spot right now, on a truck heading to Negan's community, but we presume the twisted comic book relationship between Carl and Negan means he'll stay alive.   
However, if fans are still going to fret over Carl's fate, at least Riggs is used to it.