Free Thanksgiving ecards to send this holiday season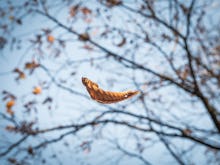 One of the more stressful parts of any holiday is remembering to give the people you care about — and some of the people you have to pretend to care about — your best wishes. Email has certainly made it way easier, and it's pretty simple to send relatives, friends and people you work with a cute, funny, or heartwarming ecard. In honor of Thanksgiving, here are some websites you can go to where you can personalize and send an ecard — for free!
hallmarkecards.com
It should come as no surprise that part of Hallmark's website is dedicated to customizing your own card before sending it out into the world. The site features some standard fall imagery, but they also have a new option: a Gilmore Girls card. New episodes of the classic teen show are making their way to Netflix on Nov. 25, and for fans of the series it could be the perfect card to send out. It features a clip from "A Deep-Fried Korean Thanksgiving," the first Gilmore Girls Thanksgiving special. 
The Hallmark website also gives you plenty of font options — many that look like real handwriting — so you can make your card look as personal as possible. 
bluemountain.com
There's nothing too showy about Blue Mountain's Thanksgiving ecards, but that doesn't mean the site doesn't have any variety. Blue Mountain not only has Thanksgiving ecards, but subcategories too. You can send a funny Thanksgiving ecard, a talking Thanksgiving ecard or a religious Thanksgiving ecard.
someecards.com
For the meme-loving folk out there, do not fret. There's a site where you can create the kind of Thanksgiving photo you may be find funny when others won't! Someecards put a list of clever — and also naughty — ecards you can send. And yes, there are a couple about the election. It's a change of pace from the more traditional so best to be careful when thinking about your audience.