What is a 5150 psychiatric hold? Here's why Kanye West's doctor hospitalized him.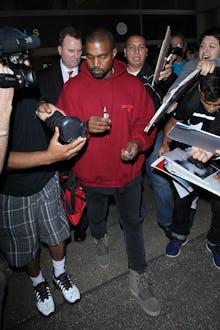 On Monday afternoon, news broke that rapper Kanye West had been hospitalized and was under observation in a Los Angeles-area hospital, just hours after his concert promoter canceled the remaining dates of West's Saint Pablo Tour. 
On Tuesday, gossip website TMZ, citing unnamed "law enforcement sources," reported West's doctor called 911 and possibly placed him on a 5150 psychiatric hold. 
TMZ wrote the doctor placed the emergency call for "a male with mental illness." The doctor reportedly said his patient "suffers from temporary psychosis due to sleep deprivation and dehydration."
But the website acknowledged that "there's an issue over whether the doctor actually placed Kanye on a 5150" and the details of West's medical care aren't clear — nor should they be, since West himself has yet to release a public statement on the matter.
What happens in a 5150 psychiatric hold?
According to training documents from the Los Angeles County Department of Mental Health, a 5150 psychiatric hold is a way to involuntarily bring someone who is in "serious need" to a mental health facility, where they can be held for up to 72 hours for "evaluation and treatment."
A 5150 hold can be written by qualified health professionals or law enforcement. According to information released by a California-based disability rights organization, the 72-hour hold can end in any of three ways: the patient is approved for release, which could happen at the end of the 72-hour hold or earlier; the patient agrees to be signed in as a voluntary patient; or, if the patient is still deemed dangerous by their treating psychiatrist at the end of the 72-hour period, the patient can be held involuntarily for up to 14 days.
As the specifics of West's care aren't public, it's not clear yet whether this applies in the case of the rapper, nor is it yet clear how long West will remain hospitalized.