Thanksgiving playlist 2016: The best songs to play during your turkey dinner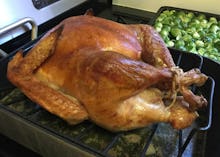 Why don't we have a Thanksgiving music tradition? The rest of our major holidays do — Halloween, Easter, Fourth of July, the winter holidays — why not turkey day?
It seems like a compelling cultural oversight, until you start to scrutinize it. 
For one, it's awfully hard to sing while shoveling food in your mouth, the primary goal of the holiday. Two, whatever music people have on is usually drowned out by football, arguments or the clatter of plates. Thanksgiving music wouldn't serve any sort of economic incentive, like holiday music, keeping people cheerful and spending money on all their significant others at shopping malls. The day also doesn't have an entirely positive historical narrative, if you're really trying to break it down and create characters the way most other holiday music does. 
So what are we left with? To fill all those sure-to-be uncomfortable silences around the dinner table, there has to be something, some kind of fun, festive sound to fill the air — not Christmas music. It is important to stave off that madness as long as possible. Thankfully, there's a hell of a lot of songs in the world about giving thanks, and a few about the day itself, to fill the void. Keep calm and try some of the songs below.
1. Arlo Guthrie — "Alice's Resturant"
Guthrie's "Alice's Restuarant" is the Beethoven's ninth of Thanksgiving day songs. The best part? The Thanksgiving day Vietnam draft dodging that Guthrie narrates actually happened — a fact that still tickles the singer. "It's an amazing set of crazy circumstances that reminds me of an old Charlie Chaplin movie," Guthrie told the Rolling Stone in 2014. "It's slapstick."
2. Sly & the Family Stone — "Thank You (Falettinme Be Mice Elf Agin)"
A late 60s funk jam, Sly wrote "Thank you (for letting me be myself again)," as the words read, as a way to try to get people to focus on his music's messages of integration and peace rather than just their grooves. It shot to no. 1 and became yet another anthem for booty shaking rather than contemplating.
3. Andrew Gold — "Thank You for Being a Friend"
Originally written by Andrew Gold, the best known version is likely that belonging to Cynthia Fee, who rewrote it to serve as the theme song for Golden Girls. They always had great Thanksgivings.
4. Vince Guaraldi Trio — "A Charlie Brown Thanksgiving"
Count on Charlie Brown to come through with the holiday themed hits. It's incredible how much great jazz has been recorded in Charlie Brown's name.
5. Otis Redding — "I Want to Thank You"
One of Otis Redding's best known hits, it hits all the Thanksgiving's heartwarming themes: love, respect, commemoration. Do like Otis would and tell one of your loved ones you cherish them.
6. Earth, Wind & Fire — "Gratitude"
This Thanksgiving is the first that Maurice White's family will have without him, following his death in February. Honor that by playing the funk and soul legend's most Thanksgiving-themed song around your own.
7. Leon Bridges — "Coming Home"
Leon Bridges is exactly the kind of man you want to be trying to bring home to momma. He makes super fine, soulful music, dresses well and seems to understand what's truly valuable in life, as evinced by "Coming Home."
8. Lou Reed — "Perfect Day"
A quiet, dark ode to drinking sangria, visiting the zoo and watching movies with loved ones — you know, perfect days. No heroin involved. Think of the lines — "You reap what you sow" — as simply a nod to the harvest.
9. Beach Boys — "God Only Knows" 
The Beach Boys' dreamy, symphonic "God Only Knows" and its album Pet Sounds were groundbreaking for their time in so many ways. The song was one of the first commercial hits to feature the word "God" in its title. Its complex instrumentation led by French horn and harpsichord is still in a class all its own.
10. Dido — "Thank You"
Eminem kind of perverted this tune into something unrecognizably dismal and depressing, but the original actually makes for a touching love song. It narrates what is for all intents and purposes a shit day that's suddenly brightened by a call from a loved one. Simple kindness can move mountains.
11. Led Zeppelin — "Thank You"
A simple ode to Robert Plant's then-wife Maureen Wilson, "Thank You" is such a simple and therapeutic tune. It was actually the first Plant wrote for the band. It acknowledges the pains and sweetnesses of life simultaneously, as all good soul must, and allows Plant to say "thank you" on a much deeper level than most people usually do. And that's what the holiday's all about, is it not?