When do Cyber Monday sales begin? Here's when best deals of the year go live.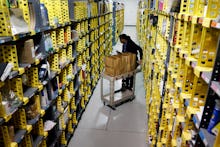 Thanksgiving weekend is a great time for retailers and business owners. The National Retail Federation forecasts that 137.4 million Americans plan to shop in stores or online over the four days. Consumer Reports surveys show that 27% of respondents will make online purchases this year, up from 24% last year. 
Based on the NRF and Consumer Report survey results, 2016 will be a promising year for U.S. business. According to Adobe, shoppers spent nearly $3 billion during Cyber Monday in 2015, and this year is expected to be the largest online shopping day in history.  
Cyber Monday is Nov. 28
Cyber Monday officially starts Nov. 28, although consumers start looking for deals prior to this date because online retailers start their discounts earlier — Target and Amazon begin Cyber Monday deals on Thanksgiving Day or Black Friday itself. Wal-Mart, for example, will start online sales at 12:01 a.m. Eastern on Nov. 25, three hours earlier than last year.
Another reason for pre-Cyber Monday purchases is because shipping offers are free between Nov. 24 and 25 with a minimum purchase amount. If you're still unsure about what to buy, visit CyberMonday.com. It contains a "deal of the hour" calendar from more than 20 different retailers, and you can find sales from over hundreds of stores. 
If you're unable to make purchases on Cyber Monday, then Green Monday might be the right time for you. Touted as the third largest online shopping day of the season, Green Monday will take place on Dec. 12. Be on the lookout for future discounts.