Researchers allege suspicious Election Day numbers in 3 swing states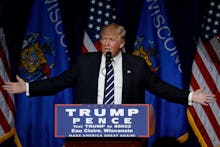 A group of "prominent computer scientists and election lawyers" are urging Democrat Hillary Clinton in private to call for a recount of the Nov. 8 presidential elections in the swing states of Michigan, Pennsylvania and Wisconsin, New York magazine's Daily Intelligencer blog reported Tuesday, citing what they call unusual discrepancies between counties that used electronic ballots versus other methods.
According to the report, the "academics presented findings showing that in Wisconsin, Clinton received 7% fewer votes in counties that relied on electronic voting machines compared with counties that used optical scanners and paper ballots." In Wisconsin, the seeming discrepancy amounted to 30,000 votes, more than the 27,000 Clinton lost the election by there.
The thinly veiled implication is that something abnormal and perhaps sinister occurred with the state's electronic ballot machines, throwing the election for Clinton's Republican competitor, President-elect Donald Trump. All three states would have to exhibit result-changing phenomena for the national election results to change, as Trump's Electoral College lead is 290 to 232 with Michigan remaining too close to call.
But FiveThirtyEight founder and statistician Nate Silver casted doubt on the statistical methods used, tweeting a "*very* quick analysis" showed additional data controls eliminated the effect.
Silver also posted he observed no phenomena in Pennsylvania, and Michigan relies entirely on paper ballots.
A separate analysis by the New York Times' Nate Cohn found similar results.
As Vox's Andrew Prokop added, additional reasons to be skeptical include a Trump surge in other states like Iowa and Minnesota, and lack of evidence regarding what was suspicious in Michigan and Pennsylvania, and the lack of action by senior Clinton campaign officials petitioned by the scientists.
However, unless the group goes public with their findings, there's no way of knowing for sure what kind of evidence they have — whether it poses a threat to Trump's newfound status as president-elect. In the meantime, according to the Daily Intelligencer, Clinton campaign officials are running out of time to mount a challenge, with deadlines closing within a week in all three states.