What does the 'Dancing With the Stars' season 23 winner get? More than just a trophy.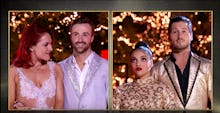 In an alternate universe, perhaps former Texas governor Rick Perry is the president of the United States. But in this world, Donald Trump is our president, and Perry was a contestant on season 23 of ABC's Dancing With the Stars, which unveiled its winner Tuesday night (of course it's not Perry). 
The winner this season was Olympic gymnast Laurie Hernandez, who along with dancing partner Val Chmerkovskiy, was awarded the Mirrorball Trophy. The trophy itself looks cool and shiny, but considering just how much dancing the contestants did — stars or otherwise — Hernandez would surely look to go home with more than just another medal (she has those already from the Olympics!). 
So, do the winners of Dancing With the Stars get paid — and if so, how much? 
According to a 2010 report from Gawker (R.I.P.), the finalists who make it to the last round all receive $50,000, while all contestants are given $125,000 for signing on with the show and participating in the first two episodes. In other words, everyone who make it to Tuesday's finale have at least $175,000 in their pocket. But the finalists also reap the rewards of surviving the earlier rounds. 
Per Gawker, the DWTS format is based on a sliding scale dependent on how well the contestants perform, starting at $10,000 for making it through episodes three and four. Episodes five and six garner another $20,000, and contestants earn $30,000 for episodes seven and eight. The finalists who compete in episodes nine and 10 earn $50,000 for appearing. This would mean — given DWTS season 23 had 15 episodes and 10 weeks of competition — Hernandez should earn approximately $235,000 for winning and participating in the whole thing. 
It's not a bad payday for Hernandez after surviving weeks of competition, and whatever the hell Perry was doing last night with Vanilla Ice.