Here's why the stock market has kept hitting record-breaking highs — and a word of caution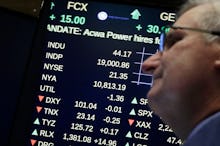 Markets were calm and stocks traded slightly lower Wednesday morning after closing at historic highs on Tuesday.
The Dow Jones Industrial Average, which includes 30 big U.S. companies, closed at a record-breaking 19,000 Tuesday — higher than it's ever been in its 120-year history. And the S&P 500 and the Nasdaq composite also closed at record highs. 
But reports on the historic close had caveats: After all, the DJIA's climb from 18,000 to 19,000 was record-breaking in a different way — it was one of its slowest thousand-point climbs in history, as the Wall Street Journal points out.
Since breaking the 18,000 ceiling in November 2014, the DJIA has increased by 5.6% over the past two years — one of the slowest increases between thousand-point markers.
The jump from 5,000 to 6,000 in 1996, for example, took less than a year and amounted to a 20% rise — that percentage increase between thousand-point markers has steadily declined as the index has gained.
Nonetheless, some traders are optimistic. Part of what drove Tuesday's markets upward was rising energy stocks, and anticipation that a deal among the Organization of the Petroleum Exporting Countries — when it meets in Vienna, Austria, on Nov. 30 — would reduce oil production and thus raise prices.
"I don't know if it will happen, but the market certainly hopes that it will," Robert Pavlik, Boston Private Wealth's chief market strategist, told CNBC.
Another reason for big stock gains in recent weeks more generally?
Investors are betting that President-elect Donald Trump's promises to cut taxes and deregulate will boost economic growth.
Whether that will actually happen is another question — but the bulls are out in full force.
Ari Wald, the head of technical analysis at investment firm Oppenheimer, told CNBC Tuesday that he thinks the Dow could hit 20,000 in the first half of 2017.