Chimamanda Ngozi Adichie says you can care about serious issues and still love makeup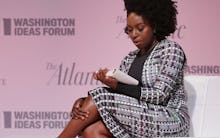 Unsurprisingly, Chimamanda Ngozi Adichie, the feminist scholar and author who shot into popularity after her voice appeared in a Beyoncé song, has some really smart thoughts on makeup. 
Just a few weeks ago she was named an ambassador to the British beauty brand No. 7, which seemed surprising to some. A feminist author repping a beauty brand? A woman who's outspoken about women's rights and equality is helping an industry that has long been looked down upon as frivolous?
Now, in a new interview with Racked, Adichie is speaking out about why makeup shouldn't be seen as frivolous at all and why appreciating it shouldn't be looked down upon either. After all, women are wholly equipped to care about makeup as well as things like women's rights and international affairs at the same time. 
"I think in the larger sense I wanted to be part of the message that women who like makeup also have important and serious things that they're doing in their lives," Adichie said of being a brand ambassador. "And that those can coexist, that women are a multiplicity of things. I think it's time to really stop that ridiculous idea that somehow if you're a serious woman you can't and should not care about how you look." 
For many, obviously, makeup can be empowering, especially since it's usually about someone deciding how they want to look and then making it happen. It's really society that's created this stigma around makeup, and the idea that anyone who appreciates it, or even loves it, isn't a complex person. 
"I had quickly realized that for a woman to be taken seriously and to be seen as a 'serious intellectual person' she couldn't possibly look as though she cared a lot about her appearance," Adichie said. "My mother raised us to think of our appearance as a mark of courtesy to other people." 
In the wide-ranging interview with Racked, Adichie also commented on our society's obsession with women who don't wear makeup, from Alicia Keys to Hillary Clinton. 
Although she would rather it wasn't a topic of conversation, she noted, "I just think it's so weird that women make individual choices and then absolute strangers think they can have all kinds of opinions about them." Adichie feels that Keys' approach to makeup now shows just how personal and powerful a decision makeup is for some people. 
"As far as Alicia Keys, I really respect her and her choice," Adichie continued. "For her I think makeup has always been some sort of mask and she felt she was hiding behind it, and for her it was almost a liberation. That's my hope and my prayer for women, that women are allowed to be whatever version makes them feel truly like themselves. For some women it's exactly what she's done, which is that she took the mask off. For other women it's the opposite. I remember actually not wearing makeup and feeling false because I wanted to wear lipstick." 
Got it, everybody? Makeup is a personal choice, and wearing it or not doesn't reflect on a woman's ability, strength or mind. 
Now that that's settled, what other damaging stereotype can Chimamanda Ngozi Adichie disprove now?