59% of voters have a message for Donald Trump: Delete your Twitter account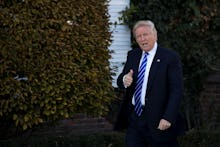 On Tuesday, the New York Times learned that Donald Trump had backed out of their meeting not because he notified them himself, but because he tweeted it, claiming the "failing" publication had changed the terms and conditions of the face-to-face. 
"We were unaware that the meeting was canceled until we saw the president-elect's tweet this morning," Eileen Murphy, a spokesperson for the Times, told Politico. What's more, Murphy said the Times hadn't altered the parameters of their meeting.
It's for reasons like these the majority of voters are pleading with Trump: Delete your account. A new nationwide poll from Quinnipiac University found 59% of voters believe that once Trump is officially sworn in as president, he should suspend use of his @realDonaldTrump.  
Of course, Trump's tiff with the Times is just the tip of the iceberg when it comes to the president-elect's Twitter beefs. According to the Times' running tally, Trump has insulted 282 "people, places and things" on his Twitter account alone. 
On Sunday, Trump slammed the actors of Hamilton for "terrible behavior" after they made a statement telling vice president-elect Mike Pence they hoped the show inspired him to "uphold our American values and to work on behalf of all of us." 
Trump responded by calling the show "highly overrated."
In September, the Washington Post published a roundup of tweets Trump had sent at around 3 a.m., including one in which he urged his followers to "check out [the] sex tape and past" of former Miss Universe Alicia Machado. 
When opponent Hillary Clinton termed the tweets "unhinged," Trump retorted, "For those few people knocking me for tweeting at three o'clock in the morning, at least you know I will be there, awake, to answer the call!"
Though there's no word yet on whether Trump will be made to extricate himself from his personal Twitter account, following his inauguration Trump will wreak havoc on a new account: @POTUS. After President Barack Obama passes the baton to his successor, all tweets from the last eight years will be archived under @POTUS44. 
Trump, then, will have the opportunity for a clean slate.
Will he use it for good or evil?