Kanye West's mom: 4 things we know about Donda West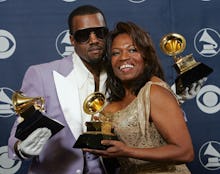 Shortly after Kanye West canceled the last few dates off of his Saint Pablo tour, the 39-year-old rapper was hospitalized. While no official reason for the hospitalization has been confirmed, he is rumored to have had some sort of breakdown. 
According to ET, the breakdown may have been a result of several combined issues, including stress, as Kanye and his family may still be coping with trauma after his wife Kim Kardashian was robbed earlier this fall. Another factor contributing to the rapper's hospitalization may be that November marks the month his mother, Donda West, passed away under mysterious circumstances in 2007.
Kanye and his mother were very close, but there's much we probably won't ever know about the woman who was such an influence on the rapper's career.
Below are some of the things we do know.
Donda West was a professor for 31 years. 
Although we know her as Kanye's mother, Donda West was a professor for 31 years before leaving the field in 2004 to assist in her son's career. She held a doctorate in English Education from Auburn University and began teaching at Morris Brown College in Atlanta in the early 1970s, according to MTV. She was an English professor but eventually rose to be the head of the department. 
When Kanye was three, his parents divorced and his mother moved them to Chicago, where she accepted a job at Chicago State University. While there, she went from being an assistant professor to a full professor. Eventually, she became the chair of the Department of English and Speech, which she led for six years. 
West left in 2004 to become her son's manager and would go on to write the book Raising Kanye: Life Lessons from the Mother of a Hip-Hop Superstar. 
On Nov. 10, 2007, West died at the age of 58. She passed away the day after having several cosmetic surgeries, and although complications from these procedures are likely what caused the death, there is still much uncertainty. 
Donda West is present in Kanye's music.
Back in 2005, Kanye released his second album, Late Registration. Off the album was "Hey Mama," a clear ode to his mother. Shortly after her death, Kanye also performed the song at the 2008 Grammy Awards. West raised her son by herself, and the song shows his immense gratitude. Here are some lyrics from "Hey Mama", from Genius:
I'm finna talk about my mama if yall don't mind
Another major song about Kanye's mother is told from her perspective: "Only One," which Kanye dropped in 2015. The song features Paul McCartney and just happens to be one of Kim Kardashian West's favorites. 
The circumstances around Donda West's death are hazy.
West's surgeon, Dr. Jan Adams, blames West's nephew for her death. He believes her nephew should have been watching her more carefully and purports that he was out of the house when his aunt died. The coroner, on the other hand, noted that West may have been suffering from a pre-existing heart condition. 
Either way, it appears as if Kanye feels the most responsible. 
In the June 2015 issue of Q magazine, Kanye vaguely expressed his guilt over his mother's death. 
"If I had never moved to L.A., she'd be alive," the rapper stated. 
Donda West is the inspiration behind Kanye's DONDA company.
Back in 2012, Kanye announced the creation of DONDA, a creative design company named after his mother. In true Kanye form, the announcement came in a series of since-deleted tweets.
"DONDA is a design company which will galvanize amazing thinkers and put them in a creative space to bounce there dreams and ideas," one of the tweets read. 
Apparently, people didn't think the idea was as good as West thought (I guess hoverboards were still lame in 2012?). He tweeted the following a few months back. 
In its earliest days, Kanye had trouble securing investors for DONDA, but in March 2014 the company partnered up with Roc Nation, Jay Z's company. Anyway, Kanye named the company after his mother, and, successful or not, that's still a pretty big thing.