Black Friday guide for ethical shoppers: These companies give back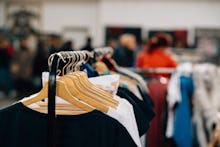 People have literally killed for Black Friday sales — which aren't even so great, as the Wall Street Journal and Recode have reported. Anyone who's been to a megastore the day after Thanksgiving knows how terrifying discounted-flatscreen TV-hungry shoppers can be.
But there's a way to be ethical about your shopping, to avoid directly and indirectly hurting others. 
Remember, part of the reason so many products — like fast fashion items, for example — can be sold so cheaply is because labor is so cheap: Sometimes that means sweatshops, child labor or slave labor. Then, there are companies which are reckless with and terrible for the environment. 
So, to avoid supporting inhuman or unethical supply chains, we've compiled a list of companies you can turn to this Black Friday in order to be a clean-conscience consumer.
A Black Friday deal for climate-change crusaders
Outdoor wear and gear company Patagonia is an advocate for protecting the environment — and on this Black Friday, the company has promised to donate 100% of its sales to "grassroots organizations working in local communities to protect our air, water and soil for future generations."
In 2002, Patagonia founder Yvon Chouinard helped set up 1% for the Planet, an initiative to get other businesses to join Patagonia in donating 1% of all sales to environmental causes.
A Black Friday discount for gender-equality warriors 
Fashion accessories and home decor company Echo's holiday sale actually extends beyond Black Friday and runs from Nov. 17 to Dec. 24. 
The company has partnered with Together We Rise so that for every winter item you purchase during this time (including on Black Friday), Echo will donate a similar article of clothing to a young woman who is leaving foster care to live on her own.
Black Friday savings for fair-labor fighters
Shoe company Nisolo employs shoemakers in Trujillo, Peru, who are paid a fair trade wage — their producers earn an estimated 300% more than they would otherwise. 
Nisolo has a Black Friday sale of up to 40% off.
"The lack of transparency in today's fashion industry has created a disconnect between consumers and producers. As a result, low wages and poor working conditions are widespread," their site explains.
Black Friday steals for champions of traditional artisans
Jewelry and homeware company Mela Artisans is offering up to 40% during their Black Friday sale, which will last a week. 
The company employs and provides healthcare for artisans in India, most of whom are women who use traditional and fast-disappearing techniques the company hopes to preserve.
"Artisans around the world struggle to preserve age-old traditions and techniques in a fast-paced, mechanized world," Mela Artisans' website says. "We hope that by helping them access new markets, we can ensure their livelihoods while keeping alive their heritage."