Gigi Hadid is sorry about that questionable Melania Trump impression at the AMAs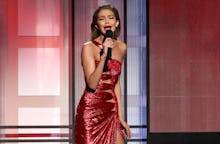 During the American Music Awards on Sunday, model Gigi Hadid offered her best impression of Melania Trump, complete with squinted eyes and pouty lips. 
"I love my husband, President Barack Obama," she began, a clear dig to when Trump lifted some lines from Michelle Obama for her own speech at the Republican National Convention. 
While the crowd squirmed nervously, unsure of how to react, Twitter erupted in debate. 
Was it bullying?
Or was it just a harmless attempt at humor?
While there's still no verdict as to whether Hadid's impression was bullying or comedy, the model has now issued an apology. On Tuesday, Hadid posted a handwritten letter on Twitter for her more than 3 million followers to see. 
"I removed or changed anything in the script that I felt took the joke too far, and whether or not you choose to see it, what remained was done in good humor and with no bad intent," she wrote. 
In the letter, she further tried to convince fans that she meant no harm by drawing attention to the fact that she herself has been the target of a "nationally televised comedy skit" that poked fun of her as well, and she was able to "find the humor in it." 
"I believe Melania understands show business and the way shows are written and run," Hadid concluded. "I apologize to anyone that I offended and have only the best wishes for our country." 
So far, the post has more than 26,000 likes and 5,000 retweets, with fans still split on what to think. "You did nothing wrong," one commenter wrote, while another remained less convinced, writing, "This isn't an apology... it's a justification." 
But because the Trump team, which has recently become very concerned and sensitive about being made fun of or mocked on national television, hasn't responded yet, we're thinking this is all going to blow over very soon.