Here are the stores open on Thanksgiving Day 2016 — Walmart, Best Buy, Kohl's and more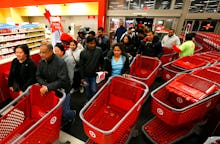 The wait is almost over: Thanksgiving is just hours away, and major retailers are gearing up in anticipation for the holiday rush. While some stores refuse to take employees away from their families on Thanksgiving day, others see the Thursday afternoon as a prime time to reel in some customers with early sales, allowing shoppers to hit the racks before the late night rush of Black Friday to scope out the savings. 
Here's a list of stores that will be open on Thanksgiving Day. 
Walmart: Although most Walmart stores are open 24 hours, the Black Friday savings will start at 6 p.m. on Thanksgiving Day. To find your local store, visit the Walmart website.  
Best Buy: Best Buy's doors will open from 5 p.m. on Thursday evening to 1 a.m. on Friday morning, according to CNBC. To find the nearest store, visit the Best Buy website. 
Kohl's: Black Friday deals at Kohl's will kick off at 6 p.m on Thursday. Visit the Kohl's website to find a store near you.  
JCPenney: JCPenney employees will have no time for Thanksgiving dinner this Thursday. CNBC reported that the store will be open at 3 p.m. on Thanksgiving Day. To find the JCPenney store closest to you, visit the JCPenney website. 
Toys R Us: Most Toys R Us stores will be open on Thanksgiving Day from 5 p.m. until Friday night. To find your local store hours, visit the Toys R Us website. 
Target: Target stores will welcome the Thanksgiving crowd at 6 p.m. on Thursday and will close their doors at either 10 p.m., 11 p.m. or noon, depending on the location. To find out when your nearest Target will close, visit the Target website. 
Sears: Sears shops will be open from 6 p.m. until midnight on Thursday, and will welcome Black Friday shoppers at 5 a.m. on Friday. 
Macy's: According to BestBlackFriday.com, select Macy's locations will be open from 5 p.m. until 2 a.m. on Thanksgiving Day. The site currently lists the following Macy's store locations as opening at 5 p.m.: Ala Moana Center in Honolulu, Hawaii; Scottsdale Fashion Square in Scottsdale, Arizona; Cherry Hill Mall in Cherry Hill, New Jersey; Moorestown Mall in Moorestown, New Jersey; and Christiana Mall in Newark, Delaware.
To find out when your nearest Macy's opens on Thanksgiving, check out the Macy's website. 
Those who are willing to brave the Thanksgiving crowds should come prepared. Here is a list of all the coupons you'll need for a successful holiday shopping experience.