Kids in Washington state are suing the government over climate change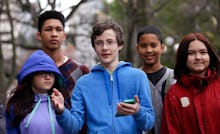 As President-elect Donald Trump prepares to make good on his promises to slash government funding for climate change programs once elected, he might also need to prepare to meet opposition from an unexpected coalition: kids. 
In Washington state, a group of kids, ranging in age from 12 to 16, petitioned a state judge on Tuesday to find the state guilty of failing to adequately protect them and future generations from the harmful effects of climate change, Fox News reported.
The lawsuit was organized by "Our Children's Trust," an Oregon-based nonprofit whose website states its purpose as securing "the legal right to stable climate and healthy atmosphere for the benefit of all present and future generations."
The case comes on the heels of a similar suit, according to Salon, which a federal judge allowed to proceed in Eugene, Oregon, earlier this month, against the administration of President Barack Obama. In that suit, the 21 petitioners, from ages 9 to 20, argued that the federal government has provided inadequate protections against climate change, which they say in turn violates their constitutional rights to life and liberty.
Additionally, the federal lawsuit claims that the government has violated something called the public trust doctrine, which maintains that the federal government is responsible for protecting certain natural resources for future generations.
Aji Piper, a 16-year-old Seattle native and a plaintiff in both cases, told reporters outside of the courthouse on Tuesday that he is fighting for the future of the planet that he and others his age will someday inherit.
"The most concerning thing to me is that our planet will be destroyed and I would have done nothing about it," he said, according to Salon. "We're bringing this case because we need to have a stronger voice and right now that's through the legal system."
After first filing their petition in 2014, the children subsequently submitted an appeal for the court to find the state's Department of Ecology in contempt of the judge's order that new rules be enacted to protect natural resources for future generations. 
On Tuesday, Assistant Attorney General Kay Shirey argued in court that a new set of state-mandated clean air rules adopted in September to reduce emissions by an average 1.7% each year met the judge's requirements, but petitioners argued that the new measures don't go far enough.
The children's attorney, Andrea Rodgers, told the judge that the Department of Ecology "has the legal authority and responsibility to remedy the ongoing legal violations of these young people's fundamental rights."
"This is the world I'm going to have to grow up in," Gabe Mandell, 14, told reporters before Tuesday's hearing. "Ecology has a mandate to protect our future and they're not doing it. They're not doing their job and they're not doing what the judge ordered."