'The Walking Dead': How to watch season 7, episode 6 online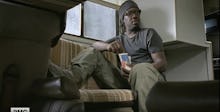 What's the one thing all fans of The Walking Dead have clamored for, and have yet to receive? An entire 70-minute episode focused on Tara and what she's been up to since we last saw her in season six (ugh). It appears she and Heath have been scavenging for supplies in the past two weeks in the show's timeline, and when they get back to Alexandria, they'll have a lot to catch up on — like how Tara's love interest Denise was, unfortunately, killed by Dwight. 
First, however, Heath and Tara have to make it back to Alexandria alive, and based on what we've been teased from the sixth episode of season seven, "Swear," that's not going to be an easy task. Here's the foreboding synopsis for episode 6, per AMC: 
In this episode, a familiar face stumbles upon a brand new society. Their rules, location, and setup are unlike anything we've seen before.
Our money's on this episode deviating from the comics a bit and introducing a new villainous threat early: the Whisperers. If that's the case, fans won't want to miss our first on-screen look at a terrifying group that wears the skin of zombies to blend in, and if the show follows the comics, leaves heads on spikes. 
But for fans without a TV handy this Thanksgiving weekend, how can you watch the episode online? 
Options are limited for fans who don't have a television subscription. The first six seasons of The Walking Dead are currently on Netflix, but season seven won't be available until 2017, meaning that won't be an option unless you're an extremely patient person. Hulu has a next-day streaming partnership with AMC, but it only includes shows that premiered after the deal was set in place, meaning the series is excluded from this deal. 
Those with a TV subscription are in luck: AMC has the episodes available to stream online the next day. Meanwhile, for non-cable users, your best bet is to purchase individual episodes the day after the episode airs on iTunes, Amazon and Google Play. 
It's worth doing some research on, because if AMC is really introducing the Whisperers, an episode centered around Tara might actually be worth checking out. Plus, even if the show doesn't introduce the Whisperers just yet, we expect to see them in the near future. AMC did tease their appearance ahead of the season seven premiere with an unsettling Instagram post. We dig it. 
Catch The Walking Dead season seven, episode six on Sunday at 9 p.m. Eastern on AMC.