Will Elton John play at Trump's inauguration? Singer responds to rumors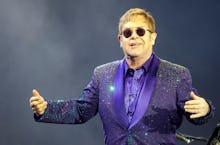 We're less than two months away from the inauguration of Donald Trump, who will ascend to the presidency in a ceremony that will, as always, feature plenty of pomp and circumstance. Traditionally, inauguration ceremonies have included performances by some of the nation's top entertainers — but with Trump's widespread unpopularity in the traditionally left-leaning entertainment industry, who will do the performing? 
One thing's for certain now: Despite a pervasive rumor, it won't be Elton John.
In an interview for the BBC's Hardtalk, Trump transition team member Anthony Scaramucci, the founder of investment firm SkyBridge Capital and a self-described "gay rights activist," claimed the singer would be performing at the inauguration during a statement defending the president-elect's commitment to gay rights.
"This will be the first American president in U.S. history that enters the White House with a pro-gay-rights stance," Scaramucci told the BBC. "Elton John is going to be doing our concert on the mall for the inauguration."
Scaramucci's statements, however, are apparently false. In a statement to the New York Times, John's publicist Fran Curtis strongly denied Scaramucci's claim, stating, "Incorrect. He will NOT be performing."
John's appointment to perform at the inauguration would be a strange choice if true, given the performer's open criticism of Trump and his policies. In an interview with Mic earlier this year, John described Trump and Vice President-elect Mike Pence as "insane" and said he "fears for the world" regarding the global AIDS situation "[if] Donald Trump gets to be president." 
"He'll marginalize people," John said. "He's already doing it."
During the presidential campaign, John showed his support for Trump's opponent Hillary Clinton with a performance at a fundraiser in March, and the singer also asked Trump to stop using his music on the campaign trail. 
"I don't really want my music to be involved in anything to do with an American election campaign," John told the Guardian in February. "I'm British. I've met Donald Trump, he was very nice to me, it's nothing personal, his political views are his own, mine are very different, I'm not a Republican in a million years. Why not ask Ted fucking Nugent? Or one of those fucking country stars? They'll do it for you." 
Other musicians who have denounced the use of their music in Trump's campaign include Adele, R.E.M., The Rolling Stones, Steven Tyler, Queen and the estate of George Harrison. So who will be gracing the stage at Trump's inauguration? That remains to be seen — but Americans shouldn't expect to hear "Tiny Dancer" on Jan. 20.