Planned Parenthood has now received 50,000 donations in Mike Pence's "honor"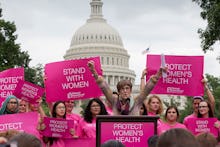 In the weeks following the election, donations have poured in to Planned Parenthood in honor of Vice President-elect Mike Pence, a noted opponent of abortion rights who once tried to change the definition of "rape" to make abortion less accessible. 
According to a Planned Parenthood representative, the organization has received "more than 50,000 individual donations" in Pence's name alone since Nov. 8, the New York Daily News reported on Tuesday.
The trend of donating to Planned Parenthood in Pence's name — and making sure he gets a "thank you" note delivered to his office in Indiana — was spurred by celebrities who shared the idea on social media, including Bethany Cosentino of the band Best Coast. 
In a statement to the Daily Mail, Planned Parenthood president Cecile Richards said: "We've seen an unprecedented outpouring of support, with more than 200,000 people donating in the week following the election — a quarter of whom pledged to be monthly supporters, recognizing the long-term work that is needed ... Tens of thousands more are pledging to make sure access to health care is protected."
The nonprofit has not yet disclosed the dollar amount of the 50,000 donations it's received in Pence's name.
As Mic has previously reported, Planned Parenthood offers a number of services in addition to abortions, which make up only about 3% of the health services provided. Planned Parenthood also offers sexual health education, STI testing, birth control, cancer screenings, hormone therapy for trans patients, gynecological exams and other health services.