Cyber Monday Scams 2016: How to avoid these holiday shopping pitfalls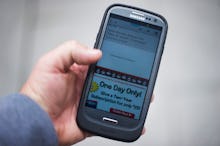 Thanks to Cyber Monday, online shoppers can breeze through their holiday shopping list this year with the click of a mouse or the tap of a finger on a smartphone screen.
Now more than ever, shoppers are going digital to buy gifts for loved ones instead of waiting in hectic retail store lines. According to Adobe, online shoppers shelled out $3.07 billion during the Thanksgiving, Black Friday and Cyber Monday weekend in 2015.
Sadly, some of these seemingly hot Cyber Monday deals are less about saving money — and more about stealing it. Some websites prey on wide-eyed shoppers with false sale advertisement this time of year, according to a report from cyber security company Kaspersky Lab.
Here are a few tips to steer clear of virtual traps and shop smart this Cyber Monday. 
All sites are not created equal, so click responsibly.
Your best bet to scouting out a legitimate Cyber Monday deal is to get information directly from the source, Bari Abdul, vice president of the anti-virus software company ZoneAlarm, wrote for Mashable. Instead of clicking on links to sales, online shoppers should type the retailer's information directly into the web browser.
Stick to ordering from sites with "https" in the beginning of their URL. According to the Chief Information Officers Council, this protocol secures information — like your credit card number, address and phone number — that you will need to enter to ship your purchases.
Your email is not always your friend.
Phishing schemes, brought upon by scammers who send fraudulent emails on fake sales to consumers, are dangerous — and they could end up in your inbox around this time of year. Deciphering between a phishing scheme and a legitimate sale becomes difficult during the Thanksgiving sale season due to similar design and jargon, according to the Kaspersky Lab.
Bottom line: Take online offers sent through email or social media with a grain of salt. The Department of Homeland Security advises wary shoppers to search for typos and other visual errors in emailed offers to identify a scam. 
Do not shop using public Wi-Fi.
Homeland Security advises mobile shoppers to buy from the comfort of their home on Cyber Monday. Although public Wi-Fi is convenient, the secure connection of a password-protected Wi-Fi network is safer for online consumers who are looking to perform transactions. 
Buff up your security system.
It's better to be safe than sorry. Abdul on Mashable advises online shoppers to download antivirus software before searching the internet on Monday. To avoid spam, Abdul also recommends users add a two-way firewall to block hackers from entering their computers.