Betsy DeVos, charter school advocate, is Donald Trump's pick for secretary of education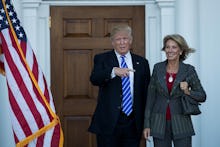 President-elect Donald Trump is set to nominate Betsy DeVos, a billionaire  and school choice advocate, as his secretary of education.
"Betsy DeVos is a brilliant and passionate education advocate," Trump said in a statement Wednesday afternoon. "Under her leadership, we will reform the U.S. education system and break the bureaucracy that is holding our children back so that we can deliver world-class education and school choice to all families."
DeVos is the former chair of the Michigan Republican Party and currently heads the American Federation for Children, which aggressively pushes for charter schools and voucher programs that let students go to private schools with taxpayer funds. 
She and her husband, Dick DeVos — who together were worth more than $5 billion in 2012, according to Reuters — have funded initiatives to push for school voucher programs.
"The status quo in education is not acceptable," DeVos said in a statement. "Together, we can work to make transformational change that ensures every student in America has the opportunity to fulfill his or her highest potential."
DeVos could face tension with Trump over her support of Common Core, which seeks to set a baseline of learning standards for K-12 education in the country. Trump is a vocal opponent of the initiative.
She is now the second woman Trump has nominated to a Cabinet or Cabinet-level job. 
Earlier on Wednesday, Trump nominated South Carolina Gov. Nikki Haley to be U.N. Ambassador.