What is the true story that inspired 'Bleed For This'?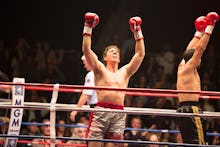 Bleed for This, the biographical film about professional boxer Vinny Paz, hit theaters on Nov. 18. The sports film takes a look at the comeback of Paz (played by Miles Teller), a world champion boxer who gets into a serious car accident and is told he'll never be able to box again. 
The improbability of someone getting back into the ring after being told they may not even be able to walk again makes Bleed for This seem like sheer fiction. But the story of how Paz — nicknamed the "Pazmanian Devil" — got back into the ring and won a fight against Luis Santana a little over a year after his accident is very much true. 
Before you head to the theaters this Thanksgiving weekend, check out the incredible true story.
Early career
In an interview with Live Fight, Paz revealed he got his start after watching Rocky. "I watched the movie and the very next day started training," Paz said. "I actually started boxing at 5 years old as I liked Muhammad Ali. Between five and 10 I went to school and played other sports but it was age 14 when I really started taking an interest [in boxing]."
Throughout his early career in the '80s, Paz struggled with his weight class. He had trouble slimming down to the 140-lb. weight limit and was so unhealthy that he once collapsed from dehydration after a fight against champion Roger Mayweather.
He told the Boston Globe, "I saw myself going up through white clouds and it felt so good. The nurse said to my father — and I could hear this — 'Mr. Pazienza, we're losing your son, he's only got one heartbeat every six seconds.'" 
Accident
He ultimately joined a division more suited to his weight — after becoming the second boxer in history to win titles for both lightweight and junior middleweight competitions. But shortly after, in 1991, Paz was in a horrible car accident.
Bleed for This chronicles his recovery from the accident, which left him with a broken neck and very close to not being able to walk again. Doctors screwed a metal piece, called a halo, into four places in Paz's skull to keep him from moving.
Paz returned to his parents' home once he got out of the hospital and immediately went against orders. With the halo on, he started lifting weights and training. A few months later, the halo was removed — which is painfully captured in the Bleed for This trailer — and just 13 months after the accident, Paz returned to the ring. 
He won his first fight back, a grueling 12-round bout against Luis Santana, which is now considered one of the greatest comebacks in the history of the sport.
Paz's feelings about the movie
While having a movie made about one's life can often be a source of conflict for those who lived through the experiences, it appears that Paz is a fan of Bleed for This. 
Speaking about the film's accuracy, Paz told the Arizona Republic: 
They didn't have to embellish anything. They even calmed down my parents. People just wouldn't believe it. I worked out a couple of days after I got home with the halo on my head. They couldn't put that in the movie because people would never believe it. They made it seem like I waited for a couple of weeks, a month. But that's not how it happened. But the movie's on point with everything. Everything.
He tweeted a strong endorsement for Bleed for This: