Cyber Monday 2016: How to get everything on your shopping list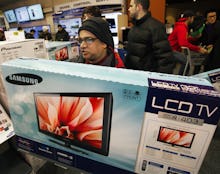 Each year, it seems like Black Friday sales eat into Thanksgiving dinner more and more. That, along with the potentially dangerous crowds, has encouraged many to consider an alternative: Cyber Monday. The online shopping extravaganza includes plenty of things that can be purchased from the comfort of your home or office. Here are some tips to keep in mind to get the most out of Cyber Monday 2016.
Research in advance
Don't wait until Monday to see what's out there. Certain Cyber Monday deals have specific time periods or restrictions to keep in mind. You don't want to spend hours sifting through websites in search of a sale and miss your chance before the offer ends or inventory runs out.  
Make a spreadsheet 
Once you've investigated your options, get organized with a spreadsheet. Use it to keep track of retailers, items, prices and bookmarked product pages. You'll be able to breeze through your Cyber Monday much more efficiently and avoid outspending your budget or making errors while ordering. 
Take advantage of doorbusters
By participating in Cyber Monday, you'll avoid the literal doors the term describes, but there's still barriers in the online world. As mentioned above, some retailers will offer deals only during a specified time period, or for as long as their inventory is stocked. If the sale is that good, consumers will bust down the digital "doors" and quickly buy up products with limited supply. Therefore, you should hop online as soon as you can (some Cyber Monday deals begin at 12:01 a.m. or even on Sunday) and take advantage of the sales while you can. 
Don't get distracted 
If there's any reoccurring theme for this guide, it's that time is of the essence. Don't get distracted by the plethora of sales you don't actually want. Stay focused and complete your shopping as soon as possible. Otherwise, you could get sidetracked by the impulsive shopping and miss out on that item you legitimately needed.
Stick to trustworthy websites
The internet can be a shady place, and there are few better opportunities than Cyber Monday to scam desperate shoppers. For the sake of your financial security and personal privacy, shop on established retailers' sites. Chances are you'll encounter a number of too-good-to-be-true deals from unfamiliar sources. Remember they're unfamiliar for a reason. Don't risk it — stick to trustworthy brands and sellers.