Quran and Islam-themed books defaced at library in Evanston, Illinois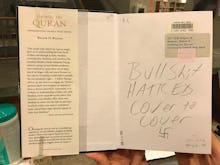 Libraries are supposed to be bastions of knowledge — but this time, they're the sites of ignorance and hatred. 
According to a Facebook post from Lorena Neal, an employee at the Evanston Public Library in Evanston, Illinois, staff were picking out books to display during an event about the Quran. The event, held in partnership with Northwestern University's Middle East and North African Studies Program, was about Islam in the United States.
When staff picked up the Quran and books about the Quran, hateful messages were written inside. One message read, "Bullshit hatred cover to cover" with a swastika drawn underneath. 
According to the Southern Poverty Law Center, more than 700 acts of hate-motivated harassment have been reported since Election Day. Evanston library director Karen Danczak Lyons said staff filed a police report Monday night and have alerted the Southern Poverty Law Center about the incident. 
"I hope it never happens again," Danczak Lyons said by phone. "Evanston Public Library welcomes everyone and all points of view and I'd invite [those who defaced the books] to come to our programs and read our books to consider other points of view and be willing to share their viewpoint in a way that is positive and respectful and doesn't deface our property. " 
Danczak Lyons said it's customary for the library to pull books from the shelves and display them for an event, and she feels that whoever did this knew these books would be pulled.
Many social media users left the library messages of support after the post began to go viral — it has been shared over 2,000 times. 
"I'm not sure whether to feel angry at them, or really for them," one commenter wrote. "This is just pure unjustified hatred." 
American Muslims have faced increased harassment since the rise of presidential candidate and now Trump. His Islamophobic rhetoric in 2015 coincided with the worst year for anti-mosque attacks on record. 
However, Danczak Lyons said this attack would not deter her from doing more Islam-themed programming. 
"Of course not," she said. "We welcome public discourse and set up programs to come together as a community to talk about a variety of issues."