From #KanyeIsOverParty to #PrayForKanye: We need to rethink celebrity gawking culture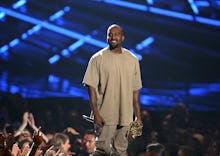 It's difficult to count how many times this has happened before.
Time and time again we've watched artists garner huge success, bask briefly in its glory, make one crucial misstep and immediately begin experiencing the spiraling psychological toll of fame. We've seen it in Britney Spears, Amy Winehouse, Justin Bieber, Azalea Banks — and now we're seeing it with Kanye West. 
The immediate reactions to West's tempered outbursts this past week were rather peripatetic. After making headlines for ranting against long-time friends Jay Z and Beyoncé Saturday at his Saint Pablo tour performance in Sacramento, California, social media users were quick to get #KanyeIsOverParty trending, gloating over the supposed end of West's career.
The next day, West cancelled a show. The day after that, he cancelled the rest of the tour and was involuntarily admitted to a psychiatric hospital in Los Angeles — and suddenly the hashtag flipped. #PrayForKanye began trending to express sympathy and support for the passionate artist.
In the blink of eye, West transformed from a widely dismissed celebrity cliche of an angry black man to a troubled, relatable human battling his inner demons. And yet the only thing that changed was that West got himself a diagnosis. This can't be the way we react to celebrity trauma. We can't only start to care when it's nearly too late.
The infamous 2009 MTV Awards was the birth of West as the punchline, as BuzzFeed's Heben Nigatu pointed out. Since then, largely due to the instant reaction of media and pop culture consumers, references to "Kanye West" almost always appear alongside words like "crazy" and other terms that stigmatize mental illness.
We've seen it in the headlines of numerous stories published on celebrity gossip blogs referring to each new viral interview snippet as the "craziest" thing he's said yet. We've seen it on respected pop culture critic sites like Vulture as they assessed — from afar — West's inability to grasp reality and likened him to individuals who've been admitted to psychiatric care. On Tuesday, Refinery29 published a piece on West's recent hospitalization with the writer — not a psychiatrist, mind you — leading with the assumption that the musician has long been "living with Bipolar Disorder I." 
It even came out of some of West's peers, like Snoop Dogg, who uploaded a video to his Instagram of his reaction to West's most recent rant, concluding: "This nigga is crazy."
Snidely reacting to West's tempered outbursts and public incidents as "crazy" or "insane" is condescending. Dave Chapelle said it best in 2006 during an interview with James Lipton's Inside the Actors Studio after surviving one of his own public breakdowns:
"The worst thing to call somebody is 'crazy.' — it's dismissive," he said. "'I don't understand this person, so they're crazy.' It's bullshit. Because people are not crazy. They're strong people. Maybe the environment is a little sick."
To dismiss West as "crazy" is to dismiss his journey through trauma — and few celebrities have been upfront about their trauma more than he. In October 2002, West was in a near-fatal car accident, after which he had to have his jaw wired shut. For many, the first Kanye song they heard was the artist spitting literally "Through the Wire" on his debut single, which propelled the artist to instant stardom. He described it as being among his most painful but rewarding events in his life. "It made people realize that I was a human being," he told Yahoo Music back in 2004.
Five years after the accident, in November 2007, West's mother Donda  — one of the most supportive and influential figures in West's life — died suddenly under suspicious conditions shortly after undergoing a series of cosmetic surgeries. She was 58. It's a tragedy West has had difficulty shaking off, one that he blames himself for and one that's apparently made November an excruciating month for him.
"If I had never moved to L.A. she'd be alive," West told Q magazine. "I don't want to go far into it because it will bring me to tears."
More recently, in October of this year, Kim Kardashian West — the mother of his children — was reportedly bound and robbed at gunpoint in Paris. After initially hearing the news, West abruptly stopped his performance at the Meadows Music Arts Festival and temporarily halted his tour to spend time with his wife and children. 
Even before this unimaginably trying November, West always left himself vulnerable and candid about his pain, and yet so many have refused to acknowledge this reality, choosing only to see the "too black ... too vocal ... too flagrant" West, as he describes himself on his single "Famous." In "Clique," West addressed the depression that lingered since his mother's death:
Went through deep depression when my mama passed
His most eerily forthright admission of his struggles with anxiety comes in his music video for "I Feel Like That," which features a visibly exhausted West singing "I feel like that all the time" in response to a series of questions lifted from a psychological evaluation.
Those who participate in the culture of gawking at West fail to understand that there's no end date when dealing with trauma. It lingers. It appears in various and unexplainable ways, and it can very well be ugly, brutal and abrasive. 
There's nothing mythical or superhuman about celebrities. We shouldn't assume that any supposedly "crazy" act is immediately performative. It can often be a glimpse at their raw and very human experience of pain. We should use these moments as opportunities to understand and empathize with celebrities as individuals, rather than only praying for them when their realities becomes too real.