Rex Tillerson will make another $180 million if confirmed as Trump's secretary of state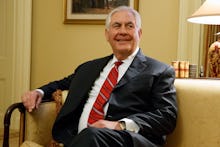 President-elect Donald Trump's pick for secretary of state will get a retirement package worth $180 million from ExxonMobil if he is confirmed by the Senate. The payout would add to his already immense net worth and makes Trump's Cabinet, believed to be the wealthiest in history, even richer.
Outlining Tillerman's deal with Exxon
Over the course of his 41 years with Exxon — the last 10 of which spent as CEO — Tillerman has accumulated a hefty stake in the oil giant. According to the Wall Street Journal, the package is essentially the value of 2 million unvested shares of company stock, and will be placed into a trust. The company said Tillerman would have received the shares at the time of his already-planned retirement in March, the Wall Street Journal reported.
Meanwhile, Tillerson will also sell his remaining Exxon shares — more than 600,000 in all — which are believed to be worth about $54 million.
Democrats rip Tillerson's "golden parachute"
The Wall Street Journal reports that the company was wise not to vest the outstanding 2 million shares — which would have made the payout even larger — and Forbes consulted a D.C. attorney who said Exxon "eliminated anything that runs afoul of the conflicts-of-interest rule," Democrat senators were quick to criticize the deal. 
In a joint statement released by Senators Tammy Baldwin (D-Wisc.) and Elizabeth Warren (D-Mass.), they said Tillerson now has a responsibility to prove during his confirmation hearings that his ties to Exxon and the hefty severance package won't influence his decision-making at the State Department.
"President-elect Trump made a commitment to 'drain the swamp' in Washington by reducing the influence of special interests in government, but this egregious payout deal is nothing more than a golden parachute that flies in the face of his campaign promise," Baldwin and Warren said.
In a statement, the company said Tillerson will be receiving about $7 million less than he would have had he retired as planned in March.
Tillerson's confirmation hearings are set to begin on Jan. 11.