The X-rated reason the 'Moana' movie title was changed to 'Oceania' in Italy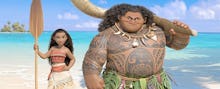 Moana is Disney's latest animated adventure to hit the big screen, but Italian viewers might not recognize it by that title. According to reports, the mouse house had to change the title of the film to Oceania. Why, you may ask? Moana is the name of a famous porn star in Italy.
Moana tells the story of a teenage girl on a "mystic island in Polynesia" who sets out on a journey to find the demigod Maui. Together they work to try to save her people. Sounds innocent enough, right? According to the Hollywood Reporter, Disney is afraid that searches for the movie in Italy will turn up late adult film star Moana Pozzi rather than the animated children's character.
The name "Moana" in Hawaiian means "ocean, wide expanse of water, deep sea." And while the Disney character and Pozzi share that meaningful name, that's where the similarities come to an end.
Pozzi broke into the porn industry in the 1980s while she was still involved with a popular children's TV show. She ultimately left the program and began to focus on her career in the adult entertainment industry. Pozzi became a household name in Italy, even running for mayor of Rome in 1993. She didn't win the election, and a year later she died suddenly from liver cancer.
Moana was released in theaters Wednesday, but won't hit theaters in Italy until Dec. 22. But Italy is not the only place where the title has been changed. The movie is called Vaiana throughout Europe due to trademark issues.