When is the Rockefeller Center Christmas Tree lighting ceremony?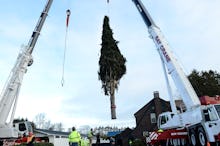 What is a tree lighting ceremony from the perspective of a tree? We uproot one of their own from the place they call home and string them up somewhere adorned with flashy lights. It's certainly better than becoming firewood.
The most popular tree lighting ceremony is the huge ass Rockefeller Center Christmas Tree, changed yearly, that hangs out in Times Square. It's a spectacle many a tourist and New Yorker will probably check out this year — and if you're watching Christmas-related movies at home, you'll get to see it in films like Elf and Home Alone 2: Lost in New York. But right now it's just a tree; a cold, lifeless tree — a Norway spruce, the tree species is called — that has been uprooted from its home in Oneonta, New York. 
When can you see the tree metaphorically brought to life — it can't literally, this tree is dead — with thousands of lights to entertain people?  
This year, the Rockefeller Center Christmas Tree lighting ceremony for the dead Norway spruce will take place on Nov. 30 from 7 p.m. to 9 p.m. Eastern and be coupled with live performances. 
If prospective viewers can't make it to Times Square for the lighting ceremony, however, there's still plenty of time to fawn over the dead tree. The dead tree will remain lit up until Jan. 7 at 9 p.m. Eastern. 
And what happens to the dead Norway spruce once mankind has had enough of its shimmering spectacle? According to a report from Scientific American, the Rockefeller Center trees of old have been given to Habitat for Humanity for their housing projects. Thankfully, if we are to chop down a beautiful tree every year for brief amusement in a metropolitan area, at least its lifeless remains may go to a good cause.