The Weeknd 'Starboy' is here: Download and streaming options for the new album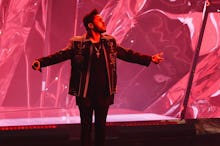 R&B's Wes Craven, its chief nightmare maker, the Weeknd, is officially back. The artist unveiled his third full-length studio album, Starboy, just before midnight heading into Black Friday. 
The album, which the star has described as a series of violent, "schizophrenic" character sketches, comes a little over a year after his previous Beauty Behind the Madness — an extremely fast turn around for a piece this sprawling. 
It spans 18 tracks, including the previously released title track and "I Feel It Coming," both featuring Daft Punk, the electropunk "False Alarm" and the menacing club bop "Party Monster." It only has a handful of official features, but each one is a creative force of nature: Future, Kendrick Lamar and Lana Del Rey with the robots' two features rounding out the lineup.
Download at iTunes or stream via Tidal, Apple Music or Spotify.
When the Weeknd first announced Starboy, he described it as a return to the bleary, hallucinogenic R&B of his debut mixtape House of Balloons. However, the singles he's released so far have displayed a far greater range than that album delivered. "I Feel It Coming" offers bright, tropical synths, while "False Alarm" lays out a curious mixture of pop melodies juxtaposed with punk-tinged chorus rhythms.
"There are new inspirations on this album," the Weeknd told VMan in one of his early profiles leading up to the release. "The production feels aggressive but still sexy. The Smiths, Bad Brains, Talking Heads, Prince, and DeBarge play roles ... It's hard to label the sound because, when I first came out, nobody would label it R&B. I just want to keep pushing the envelope without it feeling forced."
Now that the album is here, fans can assess whether those influences mixed into to a dark tie-dye, or a thick mud. Listen below via Spotify.
Nov. 25, 2016, 9:48 a.m.: This story has been updated.
Correction: Nov. 26, 2016