Study finds students have "stunning," "dismaying" inability to identify fake news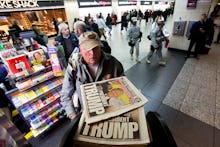 A report that an FBI agent involved in the investigation of Democrat Hillary Clinton's private email server was killed in a bizarre murder-suicide went briefly viral before the Nov. 8 federal elections, setting an ominous tone for readers. 
Of course, the story was false, but it still got shared over half a million times.
If a recent study is any indication, the "fake news" problem is just getting worse. Researchers from Stanford's Graduate School of Education found "a stunning and dismaying consistency" in students of all grade levels' ability to assess the validity of information presented to them, saying the results posed a "threat to democracy."
For the study, the tasks included asking middle schoolers to distinguish an advertisement from a news story, high schoolers to identify the source of information in a chart and college students to "ask who's behind a site that presents only one side of a contentious issue."
"But in every case and at every level, we were taken aback by students' lack of preparation," the researchers wrote — even when they were not looking for expert-level critiques of information but a "reasonable" level of awareness regarding potentially biased or misleading sources.
"Many people assume that because young people are fluent in social media they are equally perceptive about what they find there," Stanford History Education Group founder and lead author Professor Sam Wineburg said in a statement. "Our work shows the opposite to be true."
In one case, high school students failed to identify an Imgur post of sunflowers labeled "Fukushima Nuclear Flowers ... Not much more to say, this is what happens when flowers get nuclear birth defects" was not a reliable source of information on the aftermath of damage to Japan's Fukushima Daiichi Nuclear Power Plant in 2011.
Nearly 40% called the photo evidence of widespread radioactive contamination, with another quarter saying it only provided photo evidence of plant mutation. The photo actually depicts a natural phenomena in plants called fasciation.
In another experiment, researchers determined high school students were unable to verify which of two Facebook posts announcing Republican Donald Trump's presidential campaign came from the official Fox News account or an impersonator, with just a quarter of the students noticing critical factors like a verified checkmark on the real account.
When the researchers asked undergraduates to read the following tweet, a poll from the liberal Center for American Progress posted by progressive advocacy group MoveOn.org, less than a third of the students were able to identify the groups involved might have a political bias.
Information literacy has become a growing problem in the wake of the 2016 federal elections, which saw rampant misinformation on major social networks like Facebook and Twitter. Days after the victory of Republican nominee Donald Trump, the New York Times reported a post claiming Pope Francis had endorsed his campaign was shared nearly a million times on Facebook. (Note: The pope did not actually endorse Trump.)
According to BuzzFeed, one source of some of the fake info flooding the U.S. web is the Balkans. The Macedonian town of Veles alone launched at least 140 U.S. politics websites in the past year that "almost all publish aggressively pro-Trump content aimed at conservatives and Trump supporters in the US." Some of the creators were able to make up to $5,000 a month.
But homegrown content like far-right site LibertyWritersNews is lucrative as well. A profile in the Washington Post noted the site's creators, two formerly unemployed restaurant workers Paris Wade and Ben Goldman, gained 300,000 Facebook followers in October alone and are "making so much money that they feel uncomfortable talking about it because they don't want people to start asking for loans."
"The kinds of duties that used to be the responsibility of editors, of librarians now fall on the shoulders of anyone who uses a screen to become informed about the world," Wineburg told NPR. "And so the response is not to take away these rights from ordinary citizens but to teach them how to thoughtfully engage in information seeking and evaluating in a cacophonous democracy."