Jill Stein is raising $2.5 million to demand recounts in 3 swing states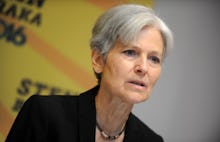 2016 Green Party presidential nominee Jill Stein has begun raising funds to demand election recounts in the national swing states of Wisconsin, Michigan and Pennsylvania, "three states where the data suggests a significant need to verify machine-counted vote totals."
According to a Stein campaign statement on the fundraising site, "Election integrity experts have independently identified Michigan, Pennsylvania and Wisconsin as states where 'statistical anomalies' raised concerns." At least officially, the campaign says the effort is "not intended to help [Democrat] Hillary Clinton" — although Clinton is just tens of thousands of votes behind Republican President-elect Donald Trump in all three states.
As of Wednesday evening, the effort had raised nearly $1.3 million of its $2.5 million goal.
Earlier this month, a group of data scientists and election lawyers including voting-rights attorney John Bonifaz and University of Michigan information security expert J. Alex Halderman urged Clinton's campaign to demand recounts, New York magazine reported. The group said their analysis indicated she "received 7% fewer votes in [Wisconsin] counties that relied on electronic-voting machines compared with counties that used optical scanners and paper ballots." However, they did not release their results publicly, nor indicate if they had evidence of suspicious data patterns in Michigan or Pennsylvania.
Some data experts including FiveThirtyEight's Nate Silver and the New York Times' Nate Cohn cautioned that the patterns alleged by the group disappeared in their own analyses once they applied proper controls to the data.
"These concerns need to be investigated before the 2016 presidential election is certified," Stein said in a statement. "We deserve elections we can trust."
Clinton would need to win all three states to change the outcome of the presidential race, which currently states at Trump's 290 electoral college votes to Clinton's 232, with Michigan remaining too close to call.
Stein came in fourth, receiving less than 1.4 million votes nationally.