Cyber Monday 2016: A list of the largest retailers participating this year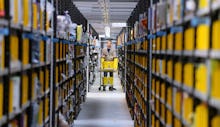 If you're not planning to participate in Black Friday sales, fear not: Cyber Monday 2016 is supposed to be the most successful shopping day in history. For this reason, hundreds of stores have already started offering Cyber Monday deals before Nov. 28, in an effort to lure as many customers as possible. 
With so many options, which retailers should you choose to get more bang for your buck? This list will help you relax and shop with a click of your mouse: 
Target 
Starting on Nov. 27, Target is offering a 15% discount and will extend its Cyber Monday promotions until Dec. 3. For more information about how to get online savings at Target, click here. 
Walmart
Retail juggernaut Walmart will start Cyber Monday deals on Black Friday at midnight and will continue through the weekend. This year, Walmart has almost tripled its online assortment with 23 million items, up from 8 million products in 2015. To see our list of online-only deals, click here. 
Amazon
Online giant Amazon is gearing up for Cyber Monday 2016. In the last few years, Amazon has proved to be one of the top choices for online consumers. Amazon's best weapon is to offer free HD movies through its Instant Video service and startling discounts on winter clothes and jackets. To find the best Cyber Monday deals on Amazon, click here. 
Best Buy
Best Buy's Cyber Monday deals are slated to start Nov. 27 and will run through the day on Sunday and Monday. Best Buy will also offer some promotions during Green Monday on Dec. 12. 
Macy's 
Thanks to the Thanksgiving Parade and its festive holiday window display, Macy's is arguably one of the most popular stores of the season. The department store will offer online shoppers 20% off any order between Nov. 27 and Dec. 1. During Cyber Monday sale, items over $25 will be shipped for free.
Kohl's 
According to BGR, Kohl's announced its Cyber Monday sale will run from Nov. 27 through Nov. 30. Kohl's said customers will get 20% in-store and online, as well as free shipping for purchases of at least $25. 
Other retailers vying for purchasers during Cyber Monday 2016 include JCPenney, Sears, Kmart, Nordstrom, and Bed Bath & Beyond, to name a few. 
Editor's note: Prices on all items are subject to change.