People are roasting this Trump Christmas tree ornament with hilarious Amazon reviews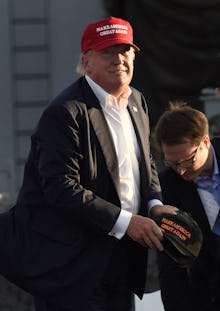 Can a hat-shaped ornament make Christmas great again? A whole lot of Amazon shoppers don't think so. 
A Trump-themed Christmas tree ornament in the shape of his campaign's iconic "Make America Great Again" baseball cap has been garnering hilariously negative reviews.
More than 1,600 Amazon users have written one-star reviews of the brass and 14 karat gold ornament, making references to everything from Trump's hateful rhetoric to his catch phrases. 
The ornament cost $149, but it's no longer available on Amazon. 
"Every time I try to hang it on the branch, it yells 'WRONG!'" Amazon user BSPhD writes in a one-star review. "No matter which branch I try, it's 'WRONG!' My brother and father can hang it up just fine, but when my mother and I try, it's just 'WRONG! WRONG! WRONG!'"
Check out some of the funniest reviews so far: