Ivanka Trump might not have said "If he wasn't my father, I would spray him with Mace"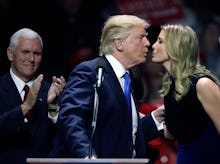 The president-elect has been known to say disgusting things about his daughter, most notably, that he'd be interested in dating her if he wasn't her father. 
On Thursday, however, writer Sarah Kendzior found and tweeted what appeared to be Donald Trump's eldest daughter, Ivanka, responding to her dad's creepy comments.
"If he wasn't my father, I would spray him with Mace." The piece, which reportedly appeared in the Chicago Tribune in 2006, goes on to say Ivanka's statement was in response to "her father complimenting her figure."
But according to Snopes, this quote can be traced back as early as March 17, 2006, in the "News for Dumb Guys" section of Louisiana's Shreveport Times. 
"While appearing on 'The View,' Donald Trump said if his 25-year-old daughter, Ivanka, wasn't his child, he would date her," the quote, which is attributed to Late Night host Conan O'Brien, reads. "Meanwhile, Ivanka said if Donald Trump wasn't her father, she would Mace him."
Ivanka and her husband Jared Kushner have been heavily involved with her father's presidential campaign. Ivanka has yet to comment on this quote. We've reached out to her for a comment and will update with any response. 
Nov. 25, 2016, 2:30 p.m.: This article has been updated.