Watch classic Christmas movies for free on TV this Thanksgiving weekend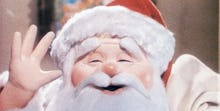 Spend all your money on Black Friday sales? Well, you're in luck. You can save a couple bucks this Thanksgiving weekend by watching classic Christmas movies on TV for free! 
The major cable networks are kicking off the holiday season on Friday night with special airings of old favorites like How the Grinch Stole Christmas, Frosty the Snowman and Santa Claus Is Comin' to Town. Plus, Freeform premiered their annual Countdown to 25 Days of Christmas programming event on Thanksgiving day. The network is airing feel-good movies and holiday films every day leading up to Dec. 1, which is when its 25 Days of Christmas movie marathon begins. 
So, throw up your feet and be grateful that you don't have to fight off the crowds for that cheap 4K TV. 
Friday, Nov. 25
8 p.m. Eastern — Frosty the Snowman (CBS)
8 p.m. — Santa Claus Is Comin' to Town (ABC)
8 p.m. — How the Grinch Stole Christmas (NBC)
8 p.m. — Grandma Got Run Over by a Reindeer (CW)
8 p.m. — Disney Parks Presents: A Descendants Magical Holiday Celebration (Disney)
8 p.m. — Christmas With the Kranks (Lifetime)
8 p.m. — Christmas List (Hallmark)
8:30 p.m. — Frosty Returns (CBS)
8:35 p.m. — How Murray Saved Christmas (NBC)
9 p.m. — Tyler Perry's A Madea Christmas (USA)
10 p.m. — Christmas Under Wraps (Hallmark)
10 p.m. — Becoming Santa (Lifetime)
Saturday, Nov. 26
6 p.m. — Love Actually (E!)
6 p.m. — My Christmas Dream (Hallmark)
6 p.m. — Home by Christmas (Lifetime)
7 p.m. — Arthur Christmas (Disney)
8 p.m. — Robbie the Reindeer: Hooves of Fire (CBS)
8 p.m. — All I Want For Christmas (Lifetime)
8 p.m. — A Heavenly Christmas (Hallmark)
8:30 p.m. — Robbie the Reindeer: The Legend of the Lost Tribe (CBS)
9 p.m. — The Story of Santa Claus (CBS)
9 p.m. — Love Actually (E!)
9:50 p.m. — A Christmas Melody (Hallmark)
10:00 p.m. — The Flight Before Christmas (Lifetime)
Sunday, Nov. 27
6 p.m. — A Christmas Detour (Hallmark)
7 p.m. — Dear Santa (Lifetime)
8 p.m. — Journey Back to Christmas (Hallmark)
9 p.m. — Christmas With the Kranks (Lifetime)
10 p.m. — Christmas List (Hallmark)