Donald Trump owns stock in the company building the Dakota Access Pipeline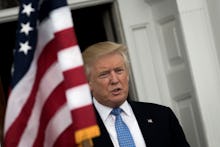 President-elect Donald Trump has invested between $15,000 and $50,000 in stocks at Energy Transfer Partners, the parent company that is building the Dakota Access Pipeline, the Associated Press reported.
Opponents of the pipeline say Trump's investments could affect decisions he'd make regarding the $3.8 billion project. The pipeline, which protesters say could potentially harm the drinking water on sacred lands of the Standing Rock Sioux tribe, would cross under a Missouri River reservoir from North Dakota to Illinois.
"Trump's investments in the pipeline business threaten to undercut faith in this process — which was already frayed — by interjecting his own financial well-being into a much bigger decision," said Sharon Buccino, director of the land and wildlife program at the Natural Resources Defense Council.
Two potential candidates for the secretary of energy cabinet appointment could also benefit from construction of the pipeline. Harold Hamm, CEO of Continental Resources, could ship oil from his company; Texas Gov. Rick Perry is on the board of Energy Transfer Partners.
In recent weeks, protests in North Dakota have resulted in violence and arrests, with at least 528 people arrested since August, AP reported. Police officers reportedly used water cannons on protesters, the Washington Post reported on Monday.
Several people on Twitter have pleaded with President Barack Obama to stop the Dakota Access Pipeline construction before Trump takes office.