Donald Trump taps Donald McGahn, KT McFarland to join administration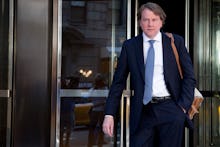 President-elect Donald Trump has picked Don McGahn for White House counsel and Kathleen "K.T." McFarland as deputy national security adviser, Trump's transition team announced on Friday.
"Don has a brilliant legal mind, excellent character and a deep understanding of constitutional law," Trump said in a statement. "He will play a critical role in our administration, and I am grateful that he is willing to serve our country at such a high-level capacity."
McGahn is the former chairman of the Federal Election Commission and served as an adviser on Trump's presidential campaign. As White House counsel, he will help the president manage potential conflicts of interest between his role as president and running his businesses. On Nov. 11, CNN reported that Trump will turn over his businesses to his children. 
McFarland will join the team lead by Michael Flynn, who was appointed on Nov. 18 to the top national security post.
"I am proud that KT has once again decided to serve our country and join my national security team," Trump said in a statement. "She has tremendous experience and innate talent that will complement the fantastic team we are assembling, which is crucial because nothing is more important than keeping our people safe."
McFarland, who is the third woman to be appointed to the Trump administration, served as deputy assistant secretary of defense for public affairs under President Ronald Reagan. In 2006, she ran for U.S. Senate in New York, but did not nab the Republican nomination.
Neither McGahn nor McFarland's appointments have to be confirmed by the Senate.