Jill Stein recount in Wisconsin: Green party candidate makes deadline to file in the state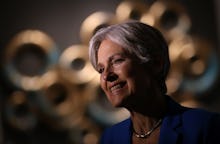 Green Party candidate Jill Stein filed for a recount in Wisconsin by the 5 p.m. CST deadline, according to the Wisconsin Elections Commissions' official Twitter account. 
Stein, who started a fundraiser to pay for recount efforts, is seeking a recount in key battleground states, Wisconsin, Pennsylvania and Michigan. 
According to a statement on the Wisconsin Election Commission's website, the commission will move forward with the recount next week after the Stein campaign pays the recount fee, which the commission says they are "still calculating." 
"The Commission is in the process of obtaining cost estimates from county clerks so that we can calculate the fee which the campaigns will need to pay before the recount can start," Michael Haas, administrator at the Wisconsin Election Commission, said. The Commission will need to determine how the recount costs will be assessed to the campaigns. 
Earlier today, there were signs Stein may not meet the deadline in the state. At around 2:30 p.m. CST, the Wisconsin Elections Commission tweeted that the commission had not yet received a recount petition from Stein. 
Stein had been successful in raising over $4.8 million to fund recounts in Michigan, Pennsylvania and Wisconsin as of early Friday. She had originally assigned a fundraising goal of $2.5 million to fund the recounts, then changed the goal to $7 million on Friday. 
President-elect Donald Trump carried Wisconsin in the 2016 election, the first time a Republican carried the state since 1984. 
This story is breaking and will be updated.